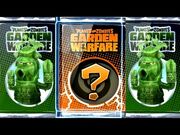 The Trick or Treat event for Plants vs. Zombies: Garden Warfare is a minor event which commemorates Halloween by adding a total of 24 Halloween-inspired customizations for the characters as well as three new Halloween reinforcements in the form of packs. Unfortunately, the contents of this event will only be available to collect for a limited time.
Details
The first hints of the Trick or Treat event was shown of in the Legends of the Lawn DLC to the 'first come, first serve' players of the game. A free Trick or Treat Pack consisting of one Franken-shroom, one Cat Dragon and one Pumpkin Browncoat were given to these players as a promotion. The event itself was released to all players on October 11th of which a new Trick or Treat pack would be available to crack open for free every day until October 31st. The contents of the pack would follow a concept of which it would contain a 'Treat' (two Halloween reinforcements of three or five each as well as two new customizations) on day 1 and then a 'Trick' (one of each Halloween reinforcement, totalling three reinforcements) on day 2 etc. On October 31st, the Trick or Treat pack was replaced with the Happy Halloween Pack to help players collect items which they missed out on and to support players in completing the Ghost Busting Community Challenge (players are to vanquish 800,000-1,600,000 Halloween reinforcements). However, these packs would cost 30,000 coins and would only last for two weeks.
New Spawnable Plants and Spawnable Zombies
Franken-shroom
Cat Dragon
Pumpkin Browncoat
Batty (hat)
Grumpy Stumpy (hat)
Cat Mask (accessory)
Trick or Treat Candy (organic)
Homemade Zombie Face (hat)
Frankenflower (hat)
Vampire Eyes (accessory)
Pumpkin Hands (organic)
Evil Kitty (hat)
Scary Stripes (hat)
Bone Teeth (accessory)
Bat Wings (organic)
Witch Hat (hat)
Bitey the Bat (hat)
Bone Glasses (accessory)
Scary Hands (organic)
Retro Robo (hat)
Ain't No Sunshine (hat)
Happy Vampire (hat)
Boo! (hat)
Wolfy (hat)
ZOMSA Astronaut (hat)
Samsquanch (hat)
Pea Brain (hat)
Gallery
Trivia
It is the first event for the game, the second being the Christmas event.
It is the first event to be available for a limited time.
It is the first event to be based on a season.
The word "ZOMSA" on the Scientist's ZOMNA Astronaut hat may be a pun on NASA.