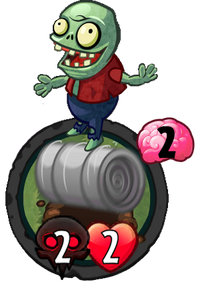 Toxic Waste Imp

Statistics
Strength
Health
Cost
2
2
2
Set
Premium
Rarity
Super-Rare
Class
Tribe
Barrel Imp Zombie
Traits
Amphibious
Abilities
All Imps are Deadly.
All the radioactive glow... none of the super powers.
Toxic Waste Imp is a premium super-rare zombie card in Plants vs. Zombies Heroes, and a member of the

Sneaky class. He costs 2

to play, and has 2

/2

. He has the Amphibious trait, and his ability gives all Imp zombies on the field, including him and any damaging Imp tricks, the
Deadly trait. This ability persists until all Toxic Waste Imps are removed from the field.
Statistics
Class: Sneaky
Tribes: Barrel Imp Zombie
Trait: Amphibious
Ability: All Imps are Deadly.
Set - Rarity: Premium - Super-Rare
Card description
All the radioactive glow... none of the super powers.
Update history
Update 1.2.11
▲

Health change: 1 → 2
Update 1.16.10
Rarity change: Rare → Super-Rare
Update 1.22.12
▲

Ability change: Toxic Waste Imp now benefits Imp tricks as well.
Strategies
With
Despite being weak in terms of health and strength, this fighter can help you a lot if used correctly. You should try to have other Imps besides this fighter so that more Imps present can take down more plant fighters. Using healing cards such as Medic or stat-increasing tricks like Camel Crossing will allow him to be present for a longer period of time. It can also be teleported in via Teleport or Teleportation Zombie after the plant hero is done playing plants in front of other Imps to leave a nasty surprise.
Since he is an Imp zombie, he synergizes well with Imp Commander and vice versa. While he gives Imp Commander
Deadly, Imp Commander allows you to draw a card once he hurts the plant hero. Since Toxic Waste Imp is Amphibious, it is easy for him to hurt the plant hero since there are not many Amphibious plants and none when the opponent is playing as heroes such as Solar Flare, thus guaranteeing an extra card in many situations.
Hot Dog Imp can also be work along with this zombie, as it gives Hot Dog Imp
Deadly to destroy all plants on his lane. This can help you destroy tougher plants with very high health easily, even while they are protected with a Team-Up plant.
In general, using any kind of Imp can benefit this greatly, and should be easy to pull off as there are Imps in all classes, such as Loudmouth in

Beastly, Leprechaun Imp in

Brainy, Loose Cannon in

Crazy, and Turkey Rider in

Hearty for some examples.
As of update 1.22.13, he can also make Imp tricks deadly, so using Cakesplosion while this is on the field will allow you to easily destroy a plant for 1 brain less than Locust Swarm.
Against
When this is played, you should prioritize on destroying him with a low-cost card such as Sea-Shroom or Berry Blast as his ability can devastate important plants. Sunburn and Weed Whack can also destroy him easily.
Gallery
Plants vs. Zombies Wiki
has a
gallery
for Toxic Waste Imp.
Trivia
His barrel has a face resembling the face on Balloon Zombie's balloon.
Its description reference how some superheroes obtain superpowers after contact with radioactive waste.
In its card it shows him carrying the barrel, but he balances on his barrel in battle.