This article is under construction and requires more content. You can help our wiki by
expanding it
.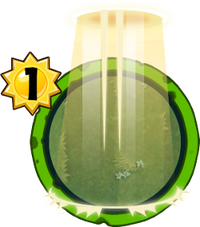 Time to Shine

Statistics
Strength
Health
Cost
-
-
1
Rarity
Super-Rare
Class
Tribe
Superpower Trick
Abilities
A Plant does a Bonus Attack.
Makes you feel all warm, glowy, and like kickin' Zombie butt.
Time to Shine is a super-rare plant superpower trick card in Plants vs. Zombies Heroes, and a member of the

Mega-Grow class. It costs 1
to play, and its ability makes a plant do a bonus attack.
Origins
It is based on the idiom "Time to shine", which means to show yourself off and be recognized. A plant 'shows itself off' by attacking once more than usual. Its visual appearance is literally a spot of sunlight, hence the word 'shine'.
Statistics
Class: Mega-Grow
Tribe: Superpower Trick
Abilities: A Plant does a Bonus Attack.
Rarity: Super-Rare
Card description
Makes you feel all warm, glowy, and like kickin' Zombie butt.
Update History
Update 1.2.12
Strategies
With
Being a cheap way of giving a plant a bonus attack, this can possibly turn the tables if it is used on a heavy-hitting plant to destroy, or at least heavily damage a dangerous zombie or the zombie hero, or a

Frozen one to thaw it.
A good way to use this is using it on Re-Peat Moss, since it will do 2 bonus attacks, which could be very dangerous if its strength has been boosted from Fertilize, Berry Angry, or Blazing Bark. This can also activate the Party Thyme + Bananasaurus Rex combo too.
Gallery
Old