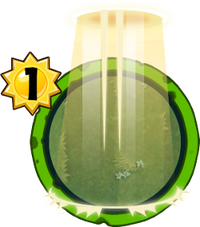 Time to Shine

Statistics
Strength
Health
Cost
-
-
1
Rarity
Super-Rare
Class
Tribe
Superpower Trick
Abilities
A Plant does a Bonus Attack.
Makes you feel all warm, glowy, and like kickin' Zombie butt.
Time to Shine is a super-rare plant superpower trick card in Plants vs. Zombies Heroes, and a member of the

Mega-Grow class. It costs 1
to play, and its ability makes a plant do a bonus attack.
Origins
It is based on the idiom "Time to shine", which means to show yourself off and be recognized, as a plant 'shows itself off' by attacking once more than usual.
Its appearance is literally a spot of sunlight, hence the word 'shine'.
Statistics
Class: Mega-Grow
Tribe: Superpower Trick
Ability: A Plant does a Bonus Attack.
Rarity: Super-Rare
Card description
Makes you feel all warm, glowy, and like kickin' Zombie butt.
Update history
Update 1.2.12
Strategies
With
Being a cheap way of giving a plant a bonus attack, this can possibly turn the tables if it is used on a heavy-hitting plant to destroy, or at least heavily damage a dangerous zombie or the zombie hero, or a

Frozen one to thaw it.
A good way to play this is using it on Re-Peat Moss, since it does 2 bonus attacks, which could be very dangerous if its strength has been boosted. This can activate the Party Thyme + Bananasaurus Rex combo too. Captain Combustible can use this on an

Anti-Hero plant to do massive damage, which can easily turn the tables if your opponent does not have enough brains to deal with them.
Against
While Time to Shine has no real counter, having zombies with high health can somewhat prevent your defenses from crumbling under an extra bonus attack.
Gallery
Old
Ad blocker interference detected!
Wikia is a free-to-use site that makes money from advertising. We have a modified experience for viewers using ad blockers

Wikia is not accessible if you've made further modifications. Remove the custom ad blocker rule(s) and the page will load as expected.