This subject currently has no proper strategy associated with it. If you have figured out a good strategy, please
add it
or the zombies will eat your brains!
This article is under construction and requires more content. You can help our wiki by
expanding it
.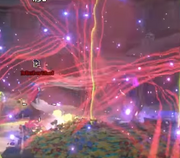 Time Snare is the first ability for Rose in Plants vs. Zombies: Garden Warfare 2. When used, Rose will create a semisphere that slows down and disables ability usage for all zombies caught in it for a few seconds in a designated area, similar to Goop and EMPeach, but does not deal any damage to zombies.
Origins
Its name is a portmanteau of "timeshare," a property with a particular form of ownership or use rights and "snare," referring to what it does.
Stickerbook description
This tricky spell disrupts the flow and space and time, temporary trapping helpless Zombies within!
Gallery
Old
Trivia
Previously, it worked similar like the Imp's Gravity Grenade, and appeared like it.
Its duration was significantly decreased in the Graveyard Variety DLC.
See also