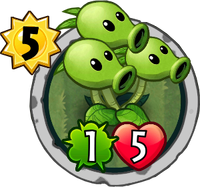 For the version in Plants vs. Zombies and Plants vs. Zombies 2, see Threepeater.
Threepeater

Statistics
Strength
Health
Cost
1
5
5
Set
Basic
Rarity
Common
Class
Tribe
Pea Plant
Abilities
Attacks here and next door.
"My favorite number is 5."
Threepeater is a basic common plant card in Plants vs. Zombies Heroes, and a member of the

Smarty class. It costs 5
to play, and has 1
/5

. It has no traits, and its ability allows it to attack on the lane it is on and the lanes adjacent to it per attack, similar to the Splash Damage trait. However, unlike Splash Damage, Threepeater's adjacent shots do damage the zombie hero.
Origins
It is based on the plant from Plants vs. Zombies with the same name and appearance.
Statistics
Class: Smarty
Tribe: Pea Plant
Traits: None
Ability: Attacks here and next door.
Set - Rarity: Basic - Common
Card description
"My favorite number is 5."
Strategies
With
Unlike other plants with Splash Damage, Threepeater can actually hit your opponent and/or zombies in 3 lanes at the same time. This basically multiplies Threepeater's strength by 3, as well as any further strength boosts. For example, if Threepeater is behind Torchwood, Threepeater does 9 damage to your opponent rather than just 3. This makes Green Shadow and Nightcap the heroes that synergize best with Threepeater, as they are the only

Smarty heroes with strength-boosting cards.
Against zombie fighters, Threepeater's ability works just like the Splash Damage trait, but since it attacks with the same strength on each lane, it is a potentially stronger version of Splash Damage.
Threepeater's unique ability is most noteworthy against the zombie hero, as Splash Damage can only damage the zombie hero from the middle lane, Threepeater's attack registers on all three lanes separately.
Against
When you are facing this plant, you can take advantage of its low strength and immediately destroy it Rolling Stone. If it gets out of hand, either bounce it with Backyard Bounce or Pogo Bouncer, or destroy it with tricks like Rocket Science. Do not let Threepeater's strength go over 6 while all 3 lanes are undefended, as it does a total of 21 damage, which is more than enough to defeat you in one attack.
Gallery
Old
Trivia
Ad blocker interference detected!
Wikia is a free-to-use site that makes money from advertising. We have a modified experience for viewers using ad blockers

Wikia is not accessible if you've made further modifications. Remove the custom ad blocker rule(s) and the page will load as expected.