Threepeater (Plants vs. Zombies Heroes)
Comments

25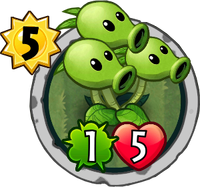 For the version in Plants vs. Zombies and Plants vs. Zombies 2, see Threepeater.
Threepeater (PvZH)

Statistics
Strength
Health
Cost
1
5
5
Set
Basic
Rarity
Common
Class
Tribe
Pea Plant
Abilities
Attacks here and next door.
My favorite number is 5.
Threepeater is a basic common plant card appearing in Plants vs. Zombies Heroes and a member of the

Smarty plants. It costs 5
and has 1
/5

when played. Its ability allows it to attack lanes adjacent to it, as well as the lane is it planted on, in a sense similar to Splash Damage plants. However, unlike them, Threepeater's next door damage is affected by boosts, and the attack will hit the enemy hero instead of disappearing when there is no zombie present.
Statistics
Class: Smarty
Tribe: Pea Plant
Abilities: Attacks here and next door.
Set - Rarity: Basic - Common
Card description
My favorite number is 5.
Strategies
With
Despite its look of poor damage, Threepeater is a strong threat. If all lanes are clear, this plant can do up to 3 damage to the zombie hero provided the damage is not blocked. Boosting this plant is beyond powerful since with Torchwood, it can do a massive 9 damage. When you are about to lose or have no fighters with the Amphibious trait, you can plant this next to the water lane. And that zombie will get destroyed before it can attack.
Against
When facing against this plant, take advantage of its strength stats with tricks like Rolling Stone, as it will still destroy this plant. If this plant's power gets out of hand, either bounce it, with Backyard Bounce or Pogo Bouncer, or destroy it with tricks like Rocket Science.
Gallery
Old
Trivia
Its description is a reference to its Suburban Almanac entry from Plants vs. Zombies, as the last sentence says that the Threepeater's favorite number is five.

Its cost and health also alludes to this.

This, Snow Pea, and Pea-Nut are the only peashooting plants that are not members of the Mega-Grow class.
This is the only plant that attacks in three lanes that doesn't have the Splash Damage trait.