Ad blocker interference detected!
Wikia is a free-to-use site that makes money from advertising. We have a modified experience for viewers using ad blockers

Wikia is not accessible if you've made further modifications. Remove the custom ad blocker rule(s) and the page will load as expected.

This article is under construction and requires more content. You can help our wiki by
expanding it
.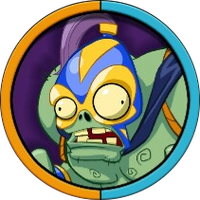 "

The Smash's name says it all. He likes to smash stuff. Mostly Plants. He doesn't move fast, but he does hit hard. And when his Gargantuar pals join the fight, it's a big ol' problem-o!

"

—Crazy Dave
The Smash

Classes
, 
Signature Superpower
Slammin' Smackdown
Other Superpowers
Heroic Health
Galvanize
Possessed
The Smash enjoys...SMASHING!
The Smash is a zombie hero in Plants vs. Zombies Heroes. He is both a

Hearty and

Beastly hero, and thus can summon those two classes of zombies. His signature superpower trick is Slammin' Smackdown, which will destroy a plant with 4
or less.
Statistics
Superpowers:
Boss Fights:
Hero description
The Smash enjoys...SMASHING!
Strategies
With
The Smash is mostly known for using Gargantuar zombies, which means his goal for the win is to be defensive at the start and offensive as the game progress. It is best to load up on some tough early-game like Arm Wrestlers, Sumo Wrestlers and Coneheads. He can also buff Armored zombies with Loudmouth and other tricks such as Vitamin Z, allowing them to become ironclad tanks. Load up on some Gargantuars (4 or more is a good number) and some instant kill tricks like Locust Swarm when plants with high stats like Soul Patch needed to be cleared, and Rolling Stone or Weed Spray for weaker early-game threats. Use Gargantuars like Rodeo Gargantuar and Smashing Gargantuar for combos, as the Rodeo Gargantuar will get Frenzy and be able to move a plant. The Smash also has the most healing of any hero, so use it to your advantage to keep you alive long enough to get out your Gargantuars and other tough late-game zombies. Examples are Medic, Nibble, and Nurse Gargantuar (which also has synergy with Smashing Gargantuar).
Against
Take caution of his Gargantuars as they can spell your doom as the game progresses. Unless you are using a high sun cost deck, it is recommended to use Squash to take down his Gargantuars, and using Grave Busters can also prevent dangerous Gravestone zombies from emerging like Sumo Wrestler, Loudmouth, and particularly Rodeo Gargantuar. Wall-Knight is the best for this job as he can use Squash, Grave Buster and become defensive overtime while healing, allowing you to get the upper hand. However, be wary of Weed Spray or Rolling Stone.
Gallery
Plants vs. Zombies Wiki
has a
gallery
for The Smash.
Trivia
The Smash's design may be based on the stereotypical Hispanic wrestler, sometimes known as luchadores. This is supported with some references to wrestling, primarily in his missions.
When The Smash is on low health, The Smash appears to facepalm, most likely aiming towards himself.
Before the 1.4.14 update, The Smash could use Rock Wall instead of Possessed. This is because The Smash and Rustbolt previously had 2 same superpowers so it changed so no hero will have the same 2 or more superpowers.
In the first comic strip of A Schooling at Zombie U, The Smash appears eating a book.
The Smash has access to more healing tricks and zombies than any other zombie hero.
The Smash is also the only hero that can play the most Gargantuars than any other hero.
The Smash's unique superpower, Slamming Smackdown, is counted as a Gargantuar card, so using him in Gargantuar related missions will get things done easier.