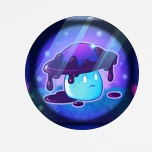 The Shadow Family is an achievement in Plants vs. Zombies 2. It is worth 10 points on Game Center for iOS devices and 1,000 XP on Google Play Games for Android devices. To earn it, the player must complete a level with 20 powered shadow plants.
Strategies
Because the shadow plants must be powered in order to count towards this achievement, the player must bring Moonflower and other shadow plants. However, it is possible to earn this achievement by using Moonflower only, as she is a shadow plant herself. You can also complete this achievement with two columns of Moonflowers on the second and third lane and two whole columns of other shadow plants on the first and fourth lane. If the player has it, they are recommended to use Imitater to more quickly create shadow plants, thus boosting the chances and speed of getting the achievement.
Trivia
The achievement's name is a possible reference to The Addams Family, as both the shadow plants and The Addams Family have a dark theme.
There is a glitch where planting 20 plants that are not shadow plants next to Moonflowers also unlock this achievement.
See also