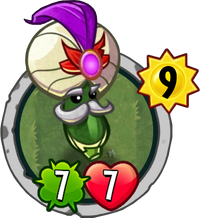 The Great Zucchini

Statistics
Strength
Health
Cost
5
6
6
Set
Premium
Rarity
Legendary
Class
Tribe
Squash Plant
Abilities
Amphibious
When played:Transform all Zombies into 1/1 Zombies.
Presto change-o! Now you see a powerful Zombie. Now you don't!
The Great Zucchini is a premium legendary plant card appearing in Plants vs. Zombies Heroes, and a member of the

Smarty plants. It costs 9
to play, and has 6
/6

and the Amphibious trait. When played, it will transform every zombie on the field into a 1
/1

Zombie.
Origins
Its name is a portmanteau of the famous magician "The Great Houdini," whose actual name is Harry Houdini and "zucchini," the fruit it is based on.
Statistics
Class: Smarty
Tribe: Squash Plant
Abilities:

Amphibious
When played: Transform all Zombies into 1/1 Zombies.

Set - Rarity: Premium - Legendary
Card description
Presto change-o! Now you see a powerful Zombie. Now you don't!
Update history
Version 1.4.14
▲

Stats change: 5/5 → 6/6
Strategies
With
It is recommended to use this when your opponent plays one or more powerful zombies. This can turn any zombie to a 1/1 Zombie and use powerful plants to finish them off. It is most recommended to use the card if the player feels that they may be overwhelmed by the zombies their opponent played. Sour Grapes or Kernel Corn can be played after The Great Zucchini to complete wipe the board of every transformed zombie, making your plants able to attack the zombie hero.
Against
The Great Zucchini turns all your zombies into 1
/1

zombies. Make sure you have tricks to counteract and turn around the fight if this is played, like Zombot 1000.
Keep in mind that the plants play after the zombies, which can make The Great Zucchini come in, unpredicted. Later in the game, if you are playing against a plant hero that uses Smarty fighters, try to avoid playing your strongest cards until you know they don't have The Great Zucchini in their deck.
Do not bounce this unless if your going to win or if all your zombies are weak anyways, as it will be able to turn all of your zombies to a 1/1 zombie again.
Gallery
Old
Trivia