This article is under construction and requires more content. You can help our wiki by
expanding it
.
This subject currently has no proper strategy associated to it. If you have figured out a good strategy, please
add it
or the zombies will eat your brains!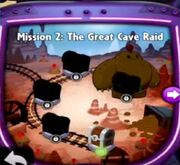 The Great Cave Raid is the second mission on the Zombie side in Plants vs. Zombies Heroes. The main opposing plant hero in this mission is Spudow. This mission also features Citron and Solar Flare as opposing plant heroes.
Story
Super Brainz, Rustbolt and Electric Boogaloo have found a hidden cave under Suburbia. They celebrate, but suddenly, Spudow comes out of the ground and attacks them.
Levels
Encounter Battle
The Great Cave Raid - Encounter Battle
Game

Enemy
Nº of height lanes
Nº of water lanes
Spudow
1
1
Previous
Next
<<<
>>>
Teammate Battle (I)
The Great Cave Raid - Teammate Battle (I)
Game

Enemy
Nº of height lanes
Nº of water lanes
Citron
1
1
Previous
Next
<<<
>>>
Mini-Boss Battle
The Great Cave Raid - Mini-Boss Battle
Game

Enemy
Nº of height lanes
Nº of water lanes
Spudow
1
1
Previous
Next
<<<
>>>
Teammate Battle (II)
The Great Cave Raid - Teammate Battle(II)
Game

Enemy
Nº of height lanes
Nº of water lanes
Solar Flare
1
1
Previous
Next
<<<
>>>
Boss Battle
The Great Cave Raid - Boss Battle
Game

Boss Mode
Spudow starts with a in the middle row.
Enemy
Nº of height lanes
Nº of water lanes
Spudow
1
1
Previous
Next
<<<
>>>
Gallery
Old
Walkthrough