The Car Lot was one of the lots in Plants vs. Zombies Adventures. If the player reclaimed it from the zombies, they would get the Beet. It included Crazy Dave's Car. When Crazy Dave's Car was fixed, it gave the player Gardening Gloves.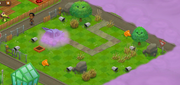 How to unlock
The player needs to get a Brick from beating level 10 of Cadaver Cavern, pay 250 coins, and then defeat the zombies there.
Unlocks
Ad blocker interference detected!
Wikia is a free-to-use site that makes money from advertising. We have a modified experience for viewers using ad blockers

Wikia is not accessible if you've made further modifications. Remove the custom ad blocker rule(s) and the page will load as expected.