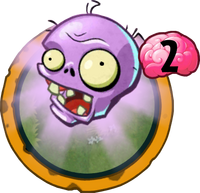 Terrify is a premium uncommon zombie trick card in Plants vs. Zombies Heroes, and a member of the

Hearty class. It costs 2

to play, and its abilities move a selected plant onto a selected lane, and give the zombie hero a card. Its closest plant counterpart is Banana Peel.
Origins
Its name is based on the real meaning of terrify, which means to cause someone to feel extreme fear.
Statistics
Class: Hearty
Tribe: Trick
Abilities: Move a Plant. Draw a card.
Set - Rarity: Premium - Uncommon
Card description
Just a disembodied Zombie head screaming uncontrollably. Nope. Nothing terrifying about that.
Update history
Update 1.2.11
Update 1.14.13
Set - Rarity change: Basic - Common → Premium - Uncommon
Strategies
With
This trick is exactly the same as Sumo Wrestler's ability, and all strategies that apply to Sumo Wrestler's ability can be used here. It should be used to move a plant into another lane to clear the lane for an

Anti-Hero zombie or to move a plant into a lane with a zombie so the plant can be destroyed. An alternate strategy is to move a plant towards an Arm Wrestler in order to boost his stats by +1

/+1

. This can also be used to move Amphibious plants such as Mayflower to a lane where it is more vulnerable, as the Hearty class does not have Amphibious zombies. The only difference from Sumo Wrestler is that this trick can also give you a card, which can help you during the late-game.
Other uses for this card is to clear the way for a strong zombie to do damage to your opponent, or move a Team-Up plant away to clear the way to a powerful but frail plant behind it.
Since this draws a card, it works well with Dino-Roar cards. For instance, The Smash can move a plant to Mondo Bronto's lane to destroy it.
Against
Be careful against Hearty heroes, as they can play it to move a plant to either let it be destroyed by a powerful zombie on another lane, or move it out of the way to ensure heavy damage to you. The best way to avoid this situation is to have 2 plants on the same lane, as this trick can only moves one plant. Another thing to mention is that it also gives your opponent a card, thus giving them an extra advantage. However, nothing can be done about that part.
You need to be careful if the zombie hero starts putting out Dino-Roar cards on the field, as they might make use of the card draw of Terrify to activate such abilities.
Gallery
Old
See also