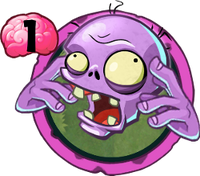 Telepathy is a super-rare zombie superpower trick card in Plants vs. Zombies Heroes, and a member of the

Brainy class. It costs 1

to play, and its ability gives the zombie hero 2 cards. Its plant counterpart is Holo-Flora.
Origins
Telepathy may refer to Professor X's ability in the X-Men series. Its old description may also refer to Professor X's quote, "To me, my X-Men!"
Its name and new description are based on the real meaning of telepathy, which is purported transmission of information from one person to another without using any of the known sensory channels or physical interaction.
Statistics
Class: Brainy
Tribe: Superpower Trick
Ability: Draw two cards.
Rarity: Super-Rare
Card description
You're thinking of a number between 1 and braaaains.
Update history
Update 1.2.12
Update 1.4.14
Description change: Was originally To me, my Z-Men!
Strategies
With
Since Telepathy is a cheaper version of Fun-Dead Raiser, the player can use it in the first turn to gain additional support if they're lucky. However, only Professor Brainstorm and Super Brainz can use it. For Professor Brainstorm, this trick is a less powerful, but more stable version of Eureka (since Eureka has the possibility to give you very weak cards or cards that do not synergize with those in your deck, whereas Telepathy will always give you 2 cards from your deck), so it is best used when you have almost no cards left.
Against
Any strategies that is used against Fun-Dead Raiser can be used against this card as well. However, if your opponents plays this after a Super-Block, there is nothing you can do.
Gallery
Old
Trivia
Its old description is a reference to the Marvel superhero group called the X-Men, who were led by a telepath.
Terrify reuses the head that appears when Telepathy is played, only without the hands.
On Professor Brainstorm's page on the official Heroes website, Telepathy's card is replaced with Embiggen's card. This is most likely an error.

This is not the case for Super Brainz' page, though.

Telepathy and Holo-Flora are the only superpowers to have the exact ability as collectible cards, specifically Fun-Dead Raiser and Flourish.
See also