Syringe is a conjectural name for this article.
If you know the official name or have a better name or translation for it, please contact a wiki
administrator
to change it.

This article is under construction and requires more content. You can help our wiki by
expanding it
.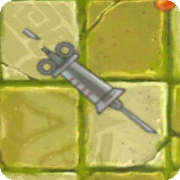 Syringes are items used by Lost Doctor Zombies in the Chinese version of Plants vs. Zombies 2. The Lost Doctor Zombie uses it to throw at the plants, which slows them down for five seconds. When this happens, the targeted plant will turn a shade of light blue. Lost Doctor Zombie can also inject itself with the syringe, making itself become stronger for a while. The syringe's slowing effect can be nullified on a plant via Plant Food.
Gallery
†: Metallic
Ad blocker interference detected!
Wikia is a free-to-use site that makes money from advertising. We have a modified experience for viewers using ad blockers

Wikia is not accessible if you've made further modifications. Remove the custom ad blocker rule(s) and the page will load as expected.