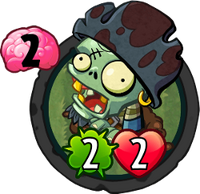 For other versions, see Swashbuckler Zombie (disambiguation).
Swashbuckler Zombie

Statistics
Strength
Health
Cost
2
2
2
Set
Premium
Rarity
Uncommon
Class
Tribe
Pirate Zombie
Traits
Gravestone
Abilities
When a Pirate hurts the Plant Hero, that Pirate gets +1/+1.
Buckles his swash like no other.
Swashbuckler Zombie is a premium uncommon zombie card in Plants vs. Zombies Heroes, and a member of the

Sneaky class. He costs 2

to play, and has 2

/2

. He has the Gravestone trait, and his ability gives every pirate zombie, including him, +1

/+1

when one does damage to the plant hero. This ability stacks with each Swashbuckler Zombie on the field, and persists until all Swashbuckler Zombies are removed from the field.
Origins
He is based on the zombie in Plants vs. Zombies 2 with the same name.
Statistics
Class: Sneaky
Tribe: Pirate Zombie
Trait: Gravestone
Ability: When a Pirate hurts the Plant Hero, that Pirate gets +1/+1.
Set - Rarity: Premium - Uncommon
Card description
Buckles his swash like no other.
Update history
Update 1.2.11
Set - Rarity change: Premium - Rare → Basic - Common
Update 1.14.13
Set - Rarity change: Basic - Common → Premium - Uncommon
Strategies
With
By himself, this zombie is a bit weak. His ability to give pirate zombies a small boost is similar to Zombot Drone Engineer's, but only activates when a pirate zombie does damage to the plant hero.
Due to his ability, Swashbuckler Zombie should be used in tandem with other pirate zombies. Notable ones include Imp Commander and Shieldcrusher Viking. This can also benefit greatly because of his low brain cost. This means he can be deployed nearly every turn.
Using Smoke Bomb on him can greatly help as he will gain +1

and be moved away from the plants blocking him, if there are any. Zombot Plank Walker is also really useful as it has

Strikethrough, which can help Swashbuckler Zombie boost Zombot Plank Walker. In addition, it will also make 2 other pirates that Swashbuckler Zombie can potentially boost. Imp-Throwing Gargantuar is also a good zombie to use with him as both the Gargantuar and Swabbies that are thrown are pirate zombies, essential to help boost any pirate. Captain Deadbeard gives all pirates the

Strikethrough trait, so he can work very well with Swashbuckler Zombie too.
Another good zombie to use Swashbuckler Zombie with is Pogo Bouncer, as he can Bounce a plant blocking him or another pirate's lane, allowing them to hurt your opponent and be boosted in the process.
Here is the list of pirates for easy reference:
Each Sneaky hero has their own ways to use Swashbuckler Zombie effectively:
Since he appears from a gravestone, Headstone Carver can boost him, making him more dangerous to the plant hero. You can also use Laser Base Alpha to help Swashbuckler Zombie activate his ability more easily.
Against
Because this appears via gravestone, Grave Buster or any plant with 2

or more will deal with this with ease. However, this may not be the case of Brain Freeze or Impfinity, as they have the most 2 brain cost zombies with the Gravestone trait. Neptuna might also use Sumo Wrestler, and Super Brainz might use Zombot Drone Engineer. Since he starts out with 2

, a Potato Mine can destroy him unless he is boosted. Whack-a-Zombie will also work if his strength is below 4.
You can also play Soul Patch to prevent him from boosting himself and the other pirates.
If he and the other pirates are overwhelming you with their high strength, consider either using Doom-Shroom or Shamrocket to destroy them or Bounce them to reset their stats.
Gallery
Old
Trivia
His description might be a spoof on his name, "swashbuckler."