Ad blocker interference detected!
Wikia is a free-to-use site that makes money from advertising. We have a modified experience for viewers using ad blockers

Wikia is not accessible if you've made further modifications. Remove the custom ad blocker rule(s) and the page will load as expected.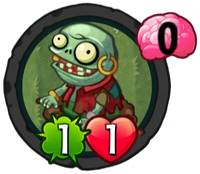 For the Plants vs. Zombies 2 version, see Imp Pirate Zombie.
Swabbie

Statistics
Strength
Health
Cost
1
1
1
Set
Token
Class
Tribe
Imp Pirate Zombie
Abilities
Amphibious
When he's not fighting Plants, you'll find him swabbing the Zombot Plank Walker's poop deck.
Swabbie is a token zombie card appearing in Plants vs. Zombies Heroes, and a member of the
Sneaky class. He is mainly summoned by the abilities from Imp-Throwing Gargantuar, Barrel Roller Zombie, and Zombot Plank Walker, Transmogrify, or obtained as a card from Eureka. He costs 1

to play (only when Bounced and as a card from Eureka), and has 1
/1

. His ability gives himself the Amphibious trait.
Origins
Swabbie's design is directly based on the Imp Pirate Zombie. His name refers to a "swabbie," a slang for a low ranked member of the navy.
Statistics
Card description
When he's not fighting Plants, you'll find him swabbing the Zombot Plank Walker's poop deck.
Update History
Update 1.4.14
Strategies
With
Swabbie is in most cases only useful as a shield to absorb incoming fire for his owner, as his basic stats does not allow him to survive very long or deal significant damage to the plant. Although, he can be boosted for the extra damage or defense, with the help of Maniacal Laugh and the like.
A pirate-themed deck using Imp-Throwing Gargantuar or Zombot Plank Walker, to play a Swabbie or in the case of the latter, spawning more other pirate zombies, and Swashbuckler Zombie, as it benefits from pirate zombies that have been defeated, and it especially works with Swabbie's incredibly low base health.
An Imp-themed one with Toxic Waste Imp, adding the

Deadly trait to all Imp zombies, and Imp Commander, to draw an extra card when an Imp is on the field, can take great advantage of Swabbie.
Against
Anything that can attack can destroy this zombie. Use minimal powered plants or tricks, and bounce this zombie if it gets powered up too much.
Gallery
Old
Trivia
See also