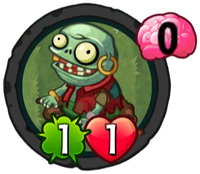 For the Plants vs. Zombies 2 version, see Imp Pirate Zombie.
Swabbie

Statistics
Strength
Health
Cost
1
1
1
Set
Token
Class
Tribe
Imp Pirate Zombie
Traits
Amphibious
Abilities
None
When he's not fighting Plants, you'll find him swabbing the Zombot Plank Walker's poop deck.
Swabbie is a token zombie card in Plants vs. Zombies Heroes, and a member of the

Sneaky class. He is made by Imp-Throwing Gargantuar, Barrel Roller Zombie, and Zombot Plank Walker, but can also be made by Summoning or Portal Technician, transformed by Transmogrify, or obtained as a card from Eureka, Imposter or Cosmic Imp. He costs 1

to play (only when he is Bounced and as a card from Eureka or Imposter), and has 1

/1

. He has the Amphibious trait, and does not have any abilities.
Origins
He is based on the Imp Pirate Zombie from Plants vs. Zombies 2.
His name is based on the real meaning of swabbie, a slang for a low ranked member of the navy.
Statistics
Class: Sneaky
Tribes: Imp Pirate Zombie
Trait: Amphibious
Abilities: None
Set: Token
Card description
When he's not fighting Plants, you'll find him swabbing the Zombot Plank Walker's poop deck.
Update history
Update 1.4.14
Strategies
With
Swabbie is in most cases only useful as a shield to absorb incoming fire for the zombie hero, as his basic stats do not allow him to survive very long or deal significant damage to plants or the plant hero. However, he can be boosted for extra damage or defense, with the help of Maniacal Laugh and the like.
A pirate-themed deck using Imp-Throwing Gargantuar or Zombot Plank Walker, to spawn a Swabbie or in the case of the latter, spawning more other pirate zombies, and Swashbuckler Zombie, benefits Swabbie and other pirate zombies from Swashbuckler, who raises their stats when they hurt the zombie hero.
An Imp-themed one with Toxic Waste Imp, adding the
Deadly trait to all Imp zombies, and Imp Commander, to draw an extra card when an Imp hurts the zombie hero, can take great advantage of Swabbie.
Against
Anything that can attack can destroy this zombie. Use minimal powered plants or tricks, and Bounce this zombie if he gets powered up too much.
Try to not waste useful cards like Wild Berry or Sizzle on it unless it's boosted, as they can be saved for stronger zombies later on. Sour Grapes is a good plant against this zombie as it can destroy it without needing to waste any potentially useful cards.
Gallery
Old
Trivia
He, Toxic Waste Imp, Walrus Rider, Fishy Imp, Impfinity Clone and Space Cowboy are the only Imps to have the Amphibious trait.
Oddly, despite being a token, he can still be played by Super Brainz in the tutorial, not only without the need for cards he is a token of, but purely on his own.
He, Impfinity Clone, Octo-Pet, and Trapper Territory are the only token cards in the Sneaky class.

Coincidentally, all the non-environment cards have the Amphibious trait.

He and Zombot Plank Walker are the only pirate zombies to have the Amphibious trait.
See also