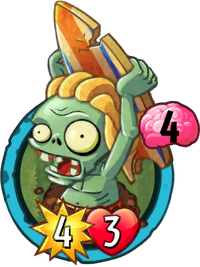 For the version in Plants vs. Zombies 2, see Surfer Zombie.
Surfer Zombie is a galactic uncommon zombie card in Plants vs. Zombies Heroes, and a member of the

Beastly class. He costs 4

to play, and has 4

/3

. He has the Amphibious and

Frenzy traits, and does not have any abilities.
Origins
He is based on the zombie in Plants vs. Zombies 2 with the same name and appearance.
Statistics
Class: Beastly
Tribes: Party Sports Zombie
Traits: Amphibious, Frenzy
Abilities: None
Set - Rarity: Galactic - Uncommon
Card description
He used to hang 10 with the best of them, but ever since he lost that toe to a shark he hasn't been able to hang more than 9.
Update history
Update 1.16.10
Update 1.22.12
Tribe change: Vacation Sports Zombie → Party Sports Zombie
Strategies
With
This zombie is relatively glassy for his cost. However, due to his Amphibious trait, he can be used to attack the aquatic lane, especially if the plant hero has yet to or is unable to set up their aquatic defenses. The Smash can use him with Team Mascot to boost his stats or Zombie Coach to protect him from all damage for that turn due to him being a sports zombie.
Since he also has the

Frenzy trait, this zombie can be quite useful against low-stat Amphibious guards like Admiral Navy Bean or Laser Cattail that are unboosted to destroy them easily and strike your opponent in one turn of combat.
Against
Although he hits hard stat-wise, he can be easily destroyed by a plant that does at least 3 damage or a simple Berry Blast unless he is shielded or had his health boosted. If that happens, use instant-kill cards such as Toadstool (if he is played outside the aquatic lane), Shamrocket, or Squash.
Gallery
Trivia
He is the second sports zombie in the Beastly class, the first being Energy Drink Zombie and the third being Synchronized Swimmer.

Out of the three, Surfer Zombie is the only one that isn't an event card, and also the only one that doesn't cost 2 brains.

He is bigger than his counterpart in Plants vs. Zombies 2.
During development, he was originally going to be a 4/4 that costed 5 with the same traits.
He is the fourth zombie in the game to return from Big Wave Beach, alongside Snorkel Zombie, Deep Sea Gargantuar and Zombot Sharktronic Sub.
When he is given the Overshoot trait, he does an animation similar to his "When destroyed" animation. The same applies to Imposter.

However, the animation played for Overshoot is a card's ability animation, so that could mean that it used to have an ability that was later scrapped.

He is the only uncommon fighter to have the Frenzy trait.