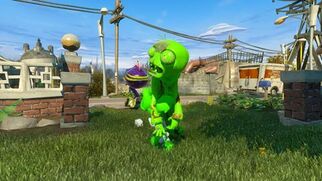 Super Sticky Goop is an alternate ability for the Chomper. Unlike the normal ability, it fully immobilizes zombies and they will turn around slower for four seconds, but deals less damage to zombies (only ten damage total) and recharges slower. It takes ten seconds to recharge.
Stickerbook description
This goop is sooo sticky that Zombies are not even able to move when they get hit by it. Let's say it together... "Now that's Sticky!"
Strategies
Try to make sure your Super Sticky Goop will guarantee a hit on a zombie, as its high cooldown will punish any Chomper player for missing. It can also be used as a self-defense if you are being chased by a fast zombie such as the Engineer.
Gallery
Trivia
The description says that zombies cannot move when gooped with Super Sticky Goop, although they can turn around.
If an Engineer is gooped with Super Sticky Goop while on a Jackhammer, they will still be able to move, albeit very slowly.
Unlike the original Goop, this is green instead of purple, likely to avoid confusion between which ability is being used.
The icon shows a gooped shoe, which may be a reference to how helpless gooped Foot Soldiers are when gooped.

This might be also reference to Chomper's description about loving the taste of the zombie feet.