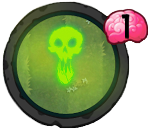 Super Stench

Statistics
Strength
Health
Cost
-
-
1
Rarity
Super-Rare
Class
Tribe
Superpower Trick
Abilities
All Zombies get Deadly.
Draw a card.
That's the smell of victory!
Super Stench is a super-rare zombie superpower trick card in Plants vs. Zombies Heroes, and a member of the

Sneaky class. It costs 1

to play, and its abilities give all zombies on the field the
Deadly trait, and the zombie hero a card.
Statistics
Class: Sneaky
Tribe: Superpower Trick
Abilities: All Zombies get Deadly. Draw a card.
Rarity: Super-Rare
Card description
That's the smell of victory!
Update history
Update 1.2.12
Update 1.16.10
Design change: Now resembles a skull.
Update 1.22.12
Strategies
With
This trick is very handy, especially against

Mega-Grow and

Guardian heroes as both classes focus on boosting their plants' health.
A good strategy is to fill the lanes with cheap, weak zombies and then play this card so that any plants on those lanes are destroyed after combat.
If you are playing as Impfinity, one of the notorious strategies that will clear the field is to use this on Barrel of Deadbeards. It will instantly destroy every plant when it is destroyed, but it will destroy all zombies besides the made Captain Deadbeard, which is quite similar to Zombot 1000. Another good zombie to use it on is Space Ninja, whose ability functions the same as Barrel of Deadbeards, but does not destroy your zombies. However, you will need him to be in an environment.
If you are desperate for cards, you could play it to get one, although it is a waste unless you have some zombies on the field.
Against
Once your opponent plays this card, it will be very difficult to keep all your plants alive after that turn. To minimize the damage, either stall them by Freezing, or remove their
Deadly trait by Bouncing.
Gallery
Old
Trivia
Its name is an example of alliteration.