This article is under construction and requires more content. You can help our wiki by
expanding it
.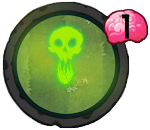 Super Stench

Statistics
Strength
Health
Cost
-
-
1
Rarity
Super-Rare
Class
Tribe
Garbage Superpower Trick
Abilities
All Zombies get Deadly.
Draw a card.
That's the smell of victory!
Super Stench is a super-rare zombie superpower trick card in Plants vs. Zombies Heroes, and a member of the
Sneaky class. It costs 1

to play, and its ability gives all zombies on the field the

Deadly trait. In addition, the player will draw a card.
Statistics
Class: Sneaky
Tribe: Garbage Superpower Trick
Abilities: All Zombies get Deadly. Draw a card.
Rarity: Super-Rare
Card description
That's the smell of victory!
Update history
Version 1.2.12
Strategies
With
This trick is extremely powerful, especially against Guardian heroes because of the fact that the Guardian class has many high health plants. Using this on a lawn filled with even zombies would be very powerful, regardless of strength.
It is also recommended to use the trick in conjunction with Coffee Zombie. With the effect of Coffee Zombie, all zombies on the field will get the

Frenzy trait. In addition with the Deadly trait, zombies would instantly kill plants because of Deadly, but because of Frenzy, they will attack again. Therefore, it would leave the field empty of plants. Only Neptuna used to be able to use this combo. However, after the 1.2.11 update, she and Brain Freeze cannot use Super Stench anymore. Now she and Brain Freeze can do the same thing by using an Imp with Deadly and giving it Frenzy by using Possessed, Coffee Zombie, Maniacal Laugh, or by simply giving Vimpire Deadly. When this trick is used with

Strikethrough zombies, that zombie can take out both the Team-Up plant (if there is one) and the plant behind it in one hit.
If the player has no cards which could be of use early in the game and obtains Super Stench, using it is usually a waste, unless the player is desperate for cards.
Gallery
Old
Trivia
Its name is an example of alliteration.