Super Boss


Defeat a Super Boss Wave in Garden Ops.

Difficulty: Somewhat hard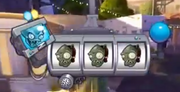 Super Boss is an achievement in Plants vs. Zombies: Garden Warfare. To earn it, the player must survive and complete a Super Boss Wave in Garden Ops. Super Boss Waves are fairly common and occur when three of the same boss appears in the Zomboss Slots. They consist of three to four bosses. The bosses are Gargantuar, Giga Gargantuar, Yeti Zombie, Baron von Bats, and Disco Zombie.
Ad blocker interference detected!
Wikia is a free-to-use site that makes money from advertising. We have a modified experience for viewers using ad blockers

Wikia is not accessible if you've made further modifications. Remove the custom ad blocker rule(s) and the page will load as expected.