"

You know how sometimes suns are bombs? This is one of these times!

"
Not to be confused with Sizzle, a trick from Plants vs. Zombies Heroes.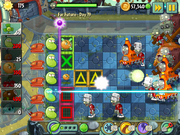 Sun Bombs is a Brain Buster in Plants vs. Zombies 2 unique to the Far Future. In this Brain Buster, sun is replaced with destructive purple sun. If the player taps the sun while it is still purple, it will deal 25 normal damage shots to any zombies and destroy non-defensive plants in a 3x3 area around it, while dealing damage to defensive plants. When the sun falls all the way down, it will turn into normal sun. Sun-producing plants besides Sun Bean, Toadstool, and Gold Bloom cannot be used in these levels. It is played in Far Future - Days 4, 19, and 24. After it touches the ground, it will turn into a normal sun. Like normal sun, it disappears if not collected quickly.
Sun drops from the sky far more often in these levels, and it is up to the player whether they want to collect the sun, or use it as an attack towards the zombies. It is very useful for hordes of zombies that are attacking the plants.
Levels
| Day | Plants | Zombies | Flags | First reward |
| --- | --- | --- | --- | --- |
| I (Day 4) | Player's choice without sun-producing plants excluding | | Two | Money bag |
| II (Day 19) | Player's choice without sun-producing plants excluding | | Two | Money bag |
| III (Day 24) | Player's choice without sun-producing plants excluding | | Two | |
Gallery
Trivia
Currently, Sun Bombs is the only Brain Buster that focuses on sun.
If the player keeps tapping the Sun Bombs, a message will say "Wait until sun falls to the ground to collect it".
It is possible that the sun is purple while it is volatile because purple is the opposite color to yellow in the RYB color model.
If the player triggers a Sun Bomb to destroy a Robo-Cone Zombie, he or she will get the Sun Damaged achievement.
Unlike the normal levels, this is the only Brain Buster where in sun falls more constantly than the original levels and its Endless counterpart.
Sun Bombs seem to glow slightly more than normal sun.
This is the second world-specific Brain Buster that lets the player choose their plants. However, sun producing plants are not allowed. The first is the Powder Keg from Kongfu World. The third is Dark Alchemy in Dark Ages.
Sun Bombs can kill most plants, including Ghost Pepper.
See also
†: Strategy page
*: Unconfirmed name
Ad blocker interference detected!
Wikia is a free-to-use site that makes money from advertising. We have a modified experience for viewers using ad blockers

Wikia is not accessible if you've made further modifications. Remove the custom ad blocker rule(s) and the page will load as expected.