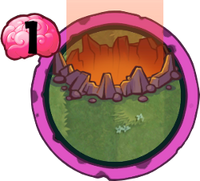 Summoning is a super-rare zombie superpower trick card in Plants vs. Zombies Heroes, and a member of the

Brainy class. It costs 1

to play, and its ability makes a random zombie that costs 2

or less on a selected lane.
Origins
It is based on the real meaning of summoning, the act of ordering someone to be present.
Statistics
Class: Brainy
Tribe: Superpower Trick
Ability: Make a random Zombie that costs 2 or less.
Rarity: Super-Rare
Card description
It's like a blind date... but with Zombies... and fighting.
Update history
Update 1.2.12
Update 1.8.23
Make a random zombie that costs 2. → Make a Zombie that costs 2or less.
Strategies
With
Summoning is, alongside Eureka, a rather potentially rewarding but unreliable superpower, as its result can range anywhere from a Baseball Zombie or Cat Lady to Cuckoo Zombie, Gargologist, Toxic Waste Imp, or even Teleportation Zombie. You can normally treat this like a cheaper Beam Me Up or Hail-a-Copter, but also one that could be much less powerful depending on which zombie it makes.
The player can use this trick to absorb a hit from a powerful plant, land a free hit on the plant hero, or take out vital plants early on such as Pea Pod or Sunflower. When getting this from a block, it's best to see if there's a good lane to fill a zombie with. Otherwise, you could save it for later in a pinch.
While being a minor synergy, Professor Brainstorm can use this to boost Unlife of the Party for a cheap price, or boost any Valkyries in his hand, as most zombies made by this card have poor survivability.
Against
The zombie that can be made by this trick can range from something as weak as an Imp to something as strong, helpful, or dangerous as a Toxic Waste Imp, Turkey Rider, or Gargologist. As a result, you might want to make sure that you have a plant in each lane in order to be prepared. However, also be careful about the first turn, as Summoning can easily take care of weak plants such as Sunflower.
Gallery
Old