Sugarcane Master (蔗师父; pinyin: zhe shīfu) is a plant from the Chinese version of Plants vs. Zombies 2. It was added in the 2.0 update.
Sugarcane Master uses its nunchaku to attack zombies in two ranges in a range of 3 tiles in front of it, with each attack dealing 1.25 normal damage shots. It repeats a cycle of 3 attacks with its nunchaku and a final attack with its "elbow" (level 2 and above). After that, it will cool down for a while.
Origins
It is based on genus Saccharum, commonly known as sugarcane.
Its costume (a yellow suit) is references to Bruce Lee.
Almanac entry
蔗师父

Sugarcane Master

蔗师傅能够使用双蔗棍攻击前方多个僵尸

特征:使用双蔗棍攻击多个僵尸
植物特征:紫色植物,武艺高强

蔗师父也是布鲁斯·李的狂热粉丝, 为了表达对偶像的敬意, 他自小就开始练习蔗拳道, 并耍得一手好双蔗棍。模仿布鲁斯·李是他最爱做的事情, 以至于现在说话只会 "啊哒! 啊哒!" 地叫。
蔗师父 (Sugarcane Master)
Sun cost: 175
DAMAGE: Huge
RANGE: Close
RECHARGE: Fast
蔗师傅能够使用双蔗棍攻击前方多个僵尸
特征:使用双蔗棍攻击多个僵尸
植物特征:紫色植物,武艺高强

蔗师父也是布鲁斯·李的狂热粉丝, 为了表达对偶像的敬意, 他自小就开始练习蔗拳道, 并耍得一手好双蔗棍。模仿布鲁斯·李是他最爱做的事情, 以至于现在说话只会 "啊哒! 啊哒!" 地叫。
In English:

Sugarcane Master can use its cane nunchucks to attack zombies in front of it.

Plant feature: Purple plant, powerful martial art skills
Special: Attack multiple zombies with nunchaku

Sugarcane Master is also a hot fan of Bruce Lee, and to show his respect, he starts practicing Sugarcane-wondo, and can use cane nunchucks very well. Imitating Bruce Lee is his favorite thing to do, so now he can only speak "Adah, adah!"
Upgrades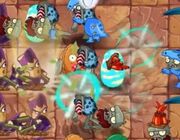 Plant Food effect
Sugarcane Master sends out many circling sticks of nunchaku in 3 lanes (3 tiles down the lanes), and finishes with a wave down the center lane (3 tiles). It will also hit itself with its nunchaku and get dazed, which is only a effect in appearance.
Costumed
All nunchaku attacks have an exploding effect, which can deal more damage.
Level upgrades
Level
Upgrades
Description

Dragon King Strike
Sugarcane Master can now do an elbow strike after each regular cycle which can knock back zombies.

Combat Training
Sugarcane Master gains 50% more attack power and health (150% of initial).

The Only Nunchaku
The attack range is increased by 1, both nunchaku and elbow strike.

Cell Activation
Sugarcane Master gains another 50% more attack power and health (200% of initial).

Ability Awaken
Sugarcane Master may be boosted when planted.

Fighting Power
Sugarcane Master gains another 50% more attack power and health (250% of initial).

Dragons From the Sea
Sugarcane Master hits 7 times with very fast speed each attack and has better chance to send zombies back. The elbow strike can also sometimes knock zombies out of the screen killing them instantly.

Fighting Power
Sugarcane Master gains another 50% more attack power and health (300% of initial).
Strategies
This plant is quite an offensive one, but attacks slowly, so use slowing plants such as Primal Rafflesia to max out its damage potential. When leveled up, its knockback attack can be useful, but note that it does not work on mechanical enemies. Since it is melee, you want to protect it with something high-health like a Wall-nut.
Gallery
Trivia
It and Sugarcane (an unused plant from Plants vs. Zombies: All Stars), are the only plants based on the sugarcane plant. Bamboo Brother's internal name is Sugarcane as well.
It is the second character in the Chinese version to use a nunchaku. The first is Nunchaku Zombie.

It is also the only plant to use one.
Bruce Bamboo can also be considered using a nunchaku, but it itself is one.
They are all Chinese exclusive and references to Bruce Lee.

When its Plant Food effect ends, there's a chance that it hits itself with its own nunchaku. This is only a cosmetic effect.
It was originally called Sugarcane Long.
The "Sugarcane-kwondo" (蔗拳道) in the Almanac entry is a reference to Taekwondo (跆拳道), a Korean martial art.