Suburban Almanac
Comments

5
1,699pages on
this wiki
Suburban Almanac is a book containing data on all the plants the player owns and all the zombies that the player has encountered. Each time a new zombie appears in the seed choosing menu at the start of a level, a new card appears with the zombie name and picture but instead of a description, there is a message reading [Not Encountered Yet].
Although important information like damage, recharge, and cost are shown for each plant and similar statistics are included for each zombie, some information is wrong or misleading and some is missing altogether. The flavor text for each entry is fairly humorous and may include jokes or references to other parts of the game, other games or other companies entirely.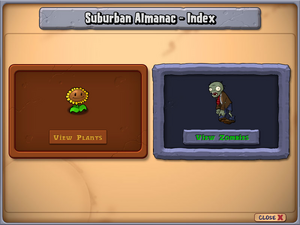 It can be accessed from the Main Menu, in the plant selection screen by clicking on the Almanac button, in the pause menu, or on a specific zombie. Almanac Entries for zombies and plants do not appear until they have been encountered.
Gallery
Suburban Almanacs
Almanac Entries
Trivia
The name is likely a reference to the Suburban Book of the Dead, a novel by Robert Rankin.
The Suburban Almanac has an index, but it should be contents, since an index tells which page mentions a certain subject.