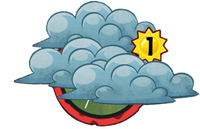 Storm Front is a super-rare plant superpower trick card in Plants vs. Zombies Heroes, and a member of the

Kabloom class. It costs 1

to play, and its ability gives all plants on the field +1

/+1

. Its closest zombie counterpart is Leftovers.
Origins
It is based on a weather front, also known as a storm front, a boundary separating two masses of air of different densities. The word "storm" in its name literally refers to how it creates a storm cloud when it is played.
Its description is based on how storms are usually the main reason of picnics being ruined.
Statistics
Class: Kabloom
Tribe: Superpower Trick
Ability: All Plants get +1/+1.
Rarity: Super-Rare
Card description
Bad for your picnic. Good for your plants.
Update history
Update 1.2.12
Strategies
With
This is a really useful superpower. It allows almost all plants to do a little extra damage and have a little extra chance to survive, and works especially well in swarm decks, assuming you get it early-game.
This will also put weak plants out of danger of tricks such as Rolling Stone and Weed Spray as they will only affect plants that have 2

or less if Berry Angry is unavailable.
As Nightcap, avoid using Rescue Radish after using Storm Front as it will reset the stats of the boosted plants, and as Spudow, you should also avoid using Doom-Shroom after playing this if it will destroy the recently boosted plants.
Against
When this is played, use Pogo Bouncer, Zombot Stomp, or Backyard Bounce to get rid of the powerful plants. This will reset their stats and will not receive the ability of Storm Front again as it is a one-time use card. It can also be affected by Defensive End because his ability makes it cost 3 sun instead of one. Sneezing Zombie will also negate the boost for any

Beastly hero.
Gallery
Old
See also