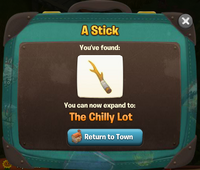 Stick was an item available in Plants vs. Zombies Adventures. It was obtained after completing level 26 of The Sever Glades. Crazy Dave tried to use it to drive away some bees (mentioned in various quests) by poking them, but forgot that poking them only agitates them. It was also used to reclaim The Chilly Lot, along with 150,000 coins.
Ad blocker interference detected!
Wikia is a free-to-use site that makes money from advertising. We have a modified experience for viewers using ad blockers

Wikia is not accessible if you've made further modifications. Remove the custom ad blocker rule(s) and the page will load as expected.