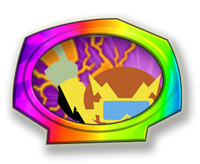 Stayin' Alive is Electric Boogaloo's premium legendary zombie signature superpower trick card in Plants vs. Zombies Heroes, and a member of the

Beastly and

Crazy classes. It costs 1

to play, and its ability does 3 damage to a plant, and heals Electric Boogaloo for 3

.
Origins
Its name is a reference to the famous song with the same name, written and performed by the Bee Gees, and also the fact that it heals Electric Boogaloo, a music and dancing-themed zombie, which can prevent him from being defeated.
Statistics
Classes: Beastly, Crazy
Tribes: Dancing Superpower Trick
Abilities: Do 3 damage to a Plant. Heal your Hero for 3.
Set - Rarity: Premium - Legendary
Card description
For Electric Boogaloo, "alive" is a relative term.
Strategies
With
This superpower costs as much and does as much damage as Electrobolt, which is also one of Electric Boogaloo's superpowers. However, unlike Electrobolt, Stayin' Alive can heal Electric Boogaloo, so if you don't have to heal him right away, Electrobolt is a more effective option.
Against
Just like Electrobolt, having many threats on the field or boosting the plants's health to at least 4 reduces the impact of this trick, however, always be alert for Evaporate. You can also make the total damage done to Electric Boogaloo be more than 3.
Gallery
Old
Trivia
It is the only Crazy card with a healing ability.
It, Pied Piper, Synchronized Swimmer, and Loudmouth are the only dancing cards in the Beastly class.
Its description references the fact that Electric Boogaloo is a zombie, and therefore undead, not alive.
It, B-flat, Dance Off, and Monster Mash are the only dancing tricks in the game.