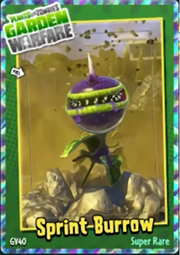 Sprint Burrow is an alternate ability of Burrow for the Chomper, which can be obtained from sticker packs. What makes it different from the normal Burrow ability is that the Chomper will go much faster in underground, but it will end faster as well; similar to the Turbo Jackhammer ability for the Engineer. The player can go further by using the regular Burrow. This version may be wanted for fast escapes. The reduction rate of the meter will drop if the player does not move while the ability is activated. It takes 15 seconds to recharge.
Stickerbook description
The Sprint Burrow allows the Chomper to move much faster when under the ground, but the range is quite limited.
Strategies
With
Sprint Burrow functions poorly in terms of stealth, as it does not cover as much distance as the regular Burrow. The player also glows while burrowing, giving away the player's position. Thus, the Sprint Burrow is best used for quick escapes after swallowing a zombie or to quickly close the distance between the player and a gooped zombie.
Gallery
Ad blocker interference detected!
Wikia is a free-to-use site that makes money from advertising. We have a modified experience for viewers using ad blockers

Wikia is not accessible if you've made further modifications. Remove the custom ad blocker rule(s) and the page will load as expected.