Spring Bean (Plants vs. Zombies Heroes)
Comments

2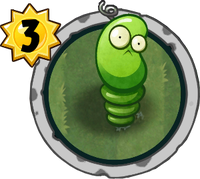 For the version in Plants vs. Zombies 2, see Spring Bean.
Spring Bean

Statistics
Strength
Health
Cost
-
-
3
Set
Basic
Rarity
Common
Class
Tribe
Bean Trick
Abilities
Bounce a Zombie.
His favorite season is Fall.
Spring Bean is a basic common plant trick card appearing in Plants vs. Zombies Heroes, and a member of the

Smarty tricks. It costs 3
to use. When played, it will bounce the targeted zombie back to the zombie hero's hand. The zombie will lose all their stat changes, and will have to be played once again in order to be sent back into the field. Zombies summoned with tricks will be sent back as basic zombie cards. Its zombie counterpart is Backyard Bounce.
Statistics
Class: Smarty
Tribe: Bean Trick
Abilities: Bounce a Zombie.
Set - Rarity: Basic - Common
Card description
His favorite season is Fall.
Strategies
With
Spring Bean can be effective against certain zombies that gain strength or health by itself over periods of turns, such as Arm Wrestler or Unlife of the Party. Other zombies that have gained a huge boost of strength or health via other methods such as tricks can also be used on, as they will return to their base stats when played again. Otherwise, you may lose a margin of health from your plant hero. You may also pick tougher zombies, which have higher base stats by default, so you can temporarily get rid of them to attack the zombie hero. Spring Bean can be useful with Admiral Navy Bean, as this is a bean trick.
Avoid bouncing zombies which can activate their ability when played, such as Disco-Tron 3000, Fireworks Zombie, or Zombot 1000, as it will actually benefit those zombies to deal more damage to your plant fighters or plant hero.
Keep in mind that Gravestones cannot be bounced back, so you need to wait for the zombies inside it to emerge from them in order to do so.
Gallery
Old
Trivia
Ironically, according to the description, Spring Bean's favorite season is fall (also known as autumn). Regarding seasons, fall is the exact opposite of what spring is.