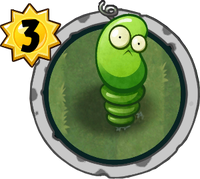 For the version in Plants vs. Zombies 2, see Spring Bean.
Spring Bean is a premium uncommon plant trick card in Plants vs. Zombies Heroes, and a member of the

Smarty class. He costs 3

to play, and his ability gives the Bounce effect to a selected zombie. His zombie counterpart is Backyard Bounce.
Origins
He is based on the plant from Plants vs. Zombies 2 with the same name and appearance.
Statistics
Class: Smarty
Tribe: Bean Trick
Ability: Bounce a Zombie.
Set - Rarity: Premium - Uncommon
Card description
His favorite season is Fall.
Update history
Update 1.14.13
Set change: Basic - Common → Premium - Uncommon
Strategies
With
Spring Bean is effective against zombies that have gained strength or health from abilities such as Arm Wrestler or Unlife of the Party, or those that have simply gained them via tricks, resetting their stats and wasting all the turns and cards your opponent used to boost them. You may also pick stronger zombies that have high base stats to temporarily get rid of them to let your plants attack your opponent. Spring Bean is also a bean card, meaning that he can synergize with Admiral Navy Bean and Bean Counter.
It is highly not recommended to Bounce zombies that can activate their ability when played, such as Disco-Tron 3000, Fireworks Zombie, or Zombot 1000, as your opponent can play them again, re-activating their abilities and causing you more trouble, unless doing so can lead to a win.
Against
You cannot counter this trick, but you can lessen his impact. Do not focus everything on one zombie, as it makes an obvious target. If your opponent chooses to Bounce a naturally powerful zombie, you can play it again with Teleport if you have enough brains.
Gallery
Old
Trivia
His description makes a play on both meanings of "spring" and "fall," spring referring to the act of going up, and fall referring to the act of going down. Spring and Fall are also opposite from one another, in terms of seasons.
He is the only plant card that shows a zombie on it.
The curl on the top of the bean is gray, instead of the faded green color it is in Plants vs. Zombies 2.