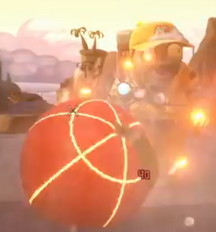 Spin Dash is the third ability from Citron which is in his Citron Ball form in Plants vs. Zombies: Garden Warfare 2. When used, he will spin himself in a place for a few seconds before charging at a full speed, knocking away anything that Citron collides into.
Stickerbook description
Charge, then launch yourself at your enemies to inflict big damage!
Gallery
Trivia
Its name and its ability may be a reference to the Spin Dash, the signature move of Sonic the Hedgehog from the franchise of the same name.
In Pre-Alpha, the Spin Dash used to be the Citron Ball's ammo. It also used to deal 40 damage instead of 50.
Ad blocker interference detected!
Wikia is a free-to-use site that makes money from advertising. We have a modified experience for viewers using ad blockers

Wikia is not accessible if you've made further modifications. Remove the custom ad blocker rule(s) and the page will load as expected.