This subject currently has no proper strategy associated with it. If you have figured out a good strategy, please
add it
or the zombies will eat your brains!
This article is under construction and requires more content. You can help our wiki by
expanding it
.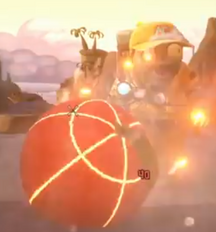 Spin Dash is the third ability from Citron which is in his Citron Ball form in Plants vs. Zombies: Garden Warfare 2. When used, he will spin himself in a place for a few seconds before charging at a full speed, knocking away anything that Citron collides into.
Origins
it's name comes from sonic's iconic move the spin dash.
Stickerbook description
Charge, then launch yourself at your enemies to inflict big damage!
Gallery
Trivia
Its name and its ability may be a reference to the Spin Dash, the signature move of Sonic the Hedgehog from the franchise of the same name.
In Pre-Alpha, the Spin Dash used to be the Citron Ball's ammo. It also used to deal 40 damage instead of 50.

Also, it went under a different name: Ball Charge.

This article is a stub. Help us
expand it
, or the zombies will eat your brains!