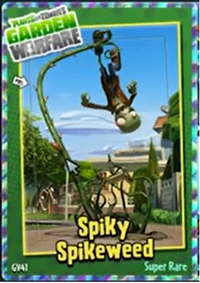 Spiky Spikeweed is an alternate ability to the Chomper's Spikeweed ability. The difference between the spikeweeds is that the Spiky Spikeweed is more visible and has less health than Spikeweed, but the victim gets snagged longer and receives 70 damage, instead of 25 per hit. The only way to unlock this ability is by purchasing sticker packs. It takes 60 seconds to recharge one Spiky Spikeweed. The player can only have two though, versus the regular Spikeweed's four.
Stickerbook description
The Spiky Spikeweed deals more damage to Zombies it ensnares, but only a few can be deployed at a time.
Health
A Spiky Spikeweed has less than or equal to 84 health.
Gallery
Trivia
See also
Ad blocker interference detected!
Wikia is a free-to-use site that makes money from advertising. We have a modified experience for viewers using ad blockers

Wikia is not accessible if you've made further modifications. Remove the custom ad blocker rule(s) and the page will load as expected.