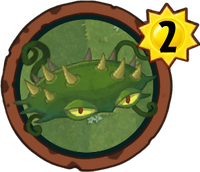 For other uses, see Spikeweed (disambiguation).
Spikeweed Sector

Statistics
Strength
Health
Cost
-
-
2
Set
Galactic
Rarity
Uncommon
Class
Tribe
Root Environment
Abilities
Before combat here: Do 2 damage to a Zombie here.
Quite similar to the region known as Pokey Province.
Spikeweed Sector is a galactic uncommon plant environment card in Plants vs. Zombies Heroes, and a member of the
Guardian class. It costs 2
to play, and its ability does 2 damage to any zombie in it before the initial combat. Its zombie counterpart is Trapper Territory.
Origins
It is based on the plant from Plants vs. Zombies with a similar name and appearance.
Its name is a combination of "Spikeweed," the plant it is based on, and "sector," referring to the fact that it is an environment.
Statistics
Class: Guardian
Tribe: Root Environment
Ability: Before combat here: Do 2 damage to a Zombie here.
Set - Rarity: Galactic - Uncommon
Card description
Quite similar to the region known as Pokey Province.
Strategies
With
This is a very useful environment, as it can damage zombies before combat and potentially destroy them. What is even better about this is that it activates before combat, which means it can clear a path to your opponent for your plants to attack.
This works well with

Anti-Hero plants, as it may allow them to inflict massive damage to your opponent. Plantern can also be used in a similar fashion to

Anti-Hero plants as it gets a boost and the
Bullseye trait while in an environment.
Spikeweed Sector can also add damage on top of the plants' attacks on the lane, helping you taking out tougher threats. Additionally, this is also good for countering the
Crazy class. Since most of the zombies in the Crazy class have low health, it is easier to take them out without having to focus on them. Spikeweed Sector's ability also activates before the
Overshoot trait, meaning it can take out zombies like Loose Cannon before they attack you directly.
Against
Try to refrain from playing zombies on any lane with Spikeweed Sector in it. This will only hurt them, and possibly destroy them, which allows other plants to hurt you. To deal with plants in such lanes, play tricks instead. Like any environment, you can also play an environment of your own to get rid of Spikeweed Sector. Knight of the Living Dead are the only zombies to survive this environment without harm.
However, zombies such as Newspaper Zombie can also benefit from this environment, as they activate their abilities when hurt, so you can use it at your advantage instead.
Gallery