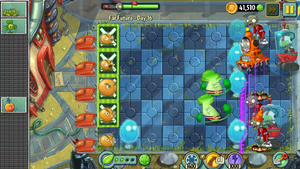 Special Delivery is a Brain Buster in Plants vs. Zombies 2 that appears in all worlds except for Pirate Seas and Wild West. In these levels, plants are delivered via conveyor-belt, and as such no sun is given and the plants are pre-selected. These kinds of levels can sometimes be challenging if the player does not play carefully. Some levels can also include Goals for Success. In addition to the regular levels, most Piñata Party levels are Special Delivery levels.
Levels
*Jurassic Marsh Days 7 and 19 require the player to prevent the zombies from trampling the flowers in order to complete the level.
Trivia
Special Delivery levels often have premium plants, including plants bought with gems, which can be used even if the player has not purchased them. Examples include Hypno-shroom in Dark Ages - Night 4, Fire Peashooter in Frostbite Caves - Day 21, Cactus in Neon Mixtape Tour - Day 3 and Escape Root in Modern Day - Day 19.
Pirate Seas and Wild West are the only worlds to have no Special Delivery levels.
Frostbite Caves has the most Special Delivery levels out of all the worlds, having seven.
Although Power Tiles are not plants, they are still given by the conveyor-belt.
Before the 1.7 update, there was only one true Special Delivery level, which was behind the first gate in Ancient Egypt.

The final level in each world is a conveyor-belt level with all of the zombies from the world, which were very similar to Special Delivery levels, however they are not technically included in the Brain Buster.
An exception to this is Modern Day - Days 32, 33 and 34.

In Plants vs. Zombies Online, the conveyor-belt is at the top of the screen.
Modern Day - Day 25 is the only Special Delivery level to have only one plant being delivered to the player.
†: Strategy page
*: Unconfirmed name