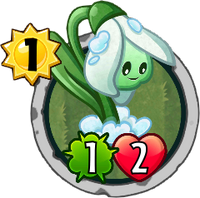 Snowdrop

Statistics
Strength
Health
Cost
1
2
1
Set
Basic
Rarity
Common
Class
Tribe
Flower Plant
Abilities
This gets +2/+2 when a Zombie is frozen.
Zombies are always looking at her with a frozen expression.
Snowdrop is a basic common plant card appearing in Plants vs. Zombies Heroes and a member of the

Smarty plants. It costs 1
and has 1
/2

when first played. Its special ability is that a plant will gain +2
/+2

whenever a zombie gets

frozen.
Origins
Snowdrop is a plant from the genus Galanthus which consists of about 20 species of bulbous perennial herbaceous plants in the family Amaryllidaceae.
Statistics
Class: Smarty
Tribe: Flower Plant
Abilities: This gets +2/+2 when a Zombie is frozen.
Set - Rarity: Basic - Common
Card description
Zombies are always looking at her with a frozen expression.
Strategies
With
The player can easily abuse this plant due to its effect. There are many options to freeze a zombie, which will allow this to grow even larger. Using a Snow Pea while a Snowdrop is on the field is a good strategy, as every time Snow Pea attacks a zombie, it freezes that zombie, which in return the Snowdrop will gain +2
/+2

.
Using Iceberg Lettuce or Big Chill is also recommended, as they freeze a selected zombie when played. If you don't have one in your hand yet, you must protect this plant until you get a freezing plant.
Against
Using any trick such as Rocket Science can neutralize the Snowdrop. Additionally, Cut Down to Size can also work. If you don't want to deal with Snowdrop later and want to get rid of it immediately, Rolling Stone will defeat this. Bouncing it with Backyard Bounce can also revert all stat changes towards the Snowdrop. It is not very recommended to play zombies to fight the Snowdrop, as your opponent may end up having a card that can freeze your zombie, boosting the Snowdrop and giving your opponent an advantage. You can also use deadly zombies.
Gallery
Old
Trivia
Its animation is very similar to Bellflower. This is also shown in Bellflower's description since it says Bellflower wants to be friends with Snowdrop.
The word "frozen" in its description has a double meaning. The first means "covered or rigid with ice," referencing what triggers its special effect. The second means "to stare coldly at someone or to treat coldly," referring to how zombies can attack Snowdrop.