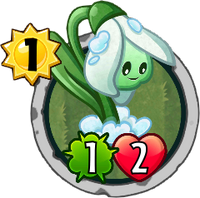 Snowdrop

Statistics
Strength
Health
Cost
1
2
1
Set
Basic
Rarity
Common
Class
Tribe
Flower Plant
Abilities
This gets +2/+2 when a Zombie is frozen.
Zombies are always looking at her with a frozen expression.
Snowdrop is a basic common plant card in Plants vs. Zombies Heroes, and a member of the

Smarty class. It costs 1
to play, and has 1
/2

. It has no traits, and its ability gives it +2
/+2

every time a zombie receives the

Freeze effect.
Origins
It is based on the plant in real life with the same name.
Statistics
Class: Smarty
Tribe: Flower Plant
Traits: None
Ability: This gets +2/+2 when a Zombie is frozen.
Set - Rarity: Basic - Common
Card description
Zombies are always looking at her with a frozen expression.
Strategies
With
While it seems weak at first, Snowdrop is a very potent and dangerous plant, and is one of the key plants in a

Freeze deck. As there are many options on freezing a zombie, you can boost Snowdrop quite easily.
Each freezing card has their own advantages and disadvantages:
While there are other stat-boosting cards like Grow-Shroom or Berry Angry, it is not as effective as freezing a zombie. However, they are still valid for you to use, in case you don't get any of the aforementioned cards, or if you ran out of them.
It is also a good idea to protect it with a Team-Up plant like Wall-Nut so that it is able to survive longer in the match.
Note that Snowdrop is also a flower plant. Therefore, while playing as Rose you can use it to benefit Power Flower or even use it in tandem with Briar Rose. When it is boosted it can take a few hard hits while Briar Rose's ability will destroy any Zombies that hits Snowdrop.
Remember Plants' Lucky Number 3 For the Strength Stat? [A Reminder: With Strength 3 (Briar Rose, Power Flower, Metal Petal Sunflower...) means that they are immune to a variety of Instant Destroy Tricks Such as Rolling Stone, Weed Spray and Rocket Science.] When Snowdrop is only boosted ONCE, it will have 3 strength and 4 Health. Means that the only way to destroy it will be via changing it's strength, direct damage and by using Locust Swarm.
Against
Snowdrop has quite acceptable stats for a 1-sun cost plant, and it can become a very big threat if you are not prepared. If Snowdrop hasn't been boosted yet, play Rolling Stone or Weed Spray. If it has been boosted twice, play Rocket Science or Cut Down to Size. If you don't have the aforementioned tricks, you can play Backyard Bounce to instantly remove all its boosts. Deadly zombies are also a good counter since they can destroy it regardless of health. However, using zombies to fight Snowdrop is quite risky, as your opponent can play a card to freeze the zombie if they have any, boosting Snowdrop and leaving the zombie at the mercy of it. Also, don't forget that it can activate Briar Rose's or Power Flower's abilities due to it being a flower plant.
Gallery
Old
Trivia
Its animation and appearance is very similar to Bellflower's.

This is referenced in Bellflower's description, where it mentions Snowdrop.

The word "frozen" in its description has a double meaning. The first means "covered or rigid with ice," referring to the commonly used strategy of freezing zombies to activate its ability. The second means "to stare coldly at someone or to treat coldly," referring to how zombies can only look at plants when they are frozen.
Ad blocker interference detected!
Wikia is a free-to-use site that makes money from advertising. We have a modified experience for viewers using ad blockers

Wikia is not accessible if you've made further modifications. Remove the custom ad blocker rule(s) and the page will load as expected.