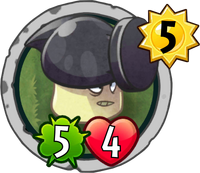 Smoosh-Shroom

Statistics
Strength
Health
Cost
5
4
5
Set
Basic
Rarity
Common
Class
Tribe
Mushroom Plant
"If I had a hammer... Wait a sec... I AM a hammer!"
Smoosh-Shroom is a basic common plant card appearing in Plants vs. Zombies Heroes, and a member of the

Smarty plants. It costs 5
and has 5
/4

when played. It does not have any traits nor abilities.
Origins
Its name is a portmanteau of "smoosh," a verb which means to squash, crush or flatten and "mushroom" referring to the fact it is a Mushroom Plant.
Statistics
Class: Smarty
Tribe: Mushroom Plant
Abilities: None
Set - Rarity: Basic - Common
Card description
"If I had a hammer... Wait a sec... I AM a hammer!"
Update history
Version 1.2.11
▼

Health change: 6 → 4.
Strategies
With
Smoosh-Shroom, similar to Smashing Pumpkin, is an underwhelming plant, as it has below average stats for a 5-cost unit and no useful effect to compensate for it. Buff-Shroom can be used to improve Smoosh-Shroom's meager stats and increase its survivability; however more useful plants such as Power Flower and Whipvine should be used in place of Smoosh-Shroom whenever possible.
Against
Because of its high number of strength points, it is able to be destroyed by the Rocket Science or Cut Down to Size trick. The Locust Swarm trick can also instantly destroy this plant. Most heavy-hitting zombies with the exception of Smashing Gargantuar will have little problem fighting Smoosh-Shroom however.
Gallery
Old
Trivia
Its description is a reference to the song "If I Had a Hammer" by Pete Seeger and Lee Hays.

This is the second time this song is referenced. The first being Excavator Zombie's Almanac entry.

This plant could also be a reference to the hammerhead shark as the back of its cap resembles the fin of the aforementioned shark.
The name is an example of alliteration.
It and Mush-Boom are the only Mushroom cards in the Smarty class.

However, Smoosh-Shroom is the only Mushroom fighter to be in the Smarty class.

It is the only Mushroom present in the Multiplayer menu.