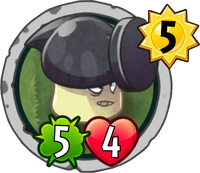 Smoosh-Shroom

Statistics
Strength
Health
Cost
5
4
5
Set
Basic
Rarity
Common
Class
Tribe
Mushroom Plant
"If I had a hammer... Wait a sec... I AM a hammer!"
Smoosh-Shroom is a basic common plant card in Plants vs. Zombies Heroes, and a member of the

Smarty class. It costs 5

to play, and has 5

/4

. It does not have any traits nor abilities.
Origins
It is based on a mushroom, the fleshy, spore-bearing fruiting body of a fungus, and a hammer, a tool or device that delivers a blow to an object.
Its name is a portmanteau of "smoosh," referring to the way it attacks, and "mushroom," the real-life fungus this is based on.
Its description is a reference to the song "If I Had a Hammer" by Pete Seeger and Lee Hays.
Statistics
Class: Smarty
Tribe: Mushroom Plant
Traits: None
Abilities: None
Set - Rarity: Basic - Common
Card description
"If I had a hammer... Wait a sec... I AM a hammer!"
Update history
Update 1.2.11
▼

Health change: 6 → 4
Strategies
With
Smoosh-Shroom, similar to Smashing Pumpkin, is a mundane plant, as it has pretty much below average stats for a 5-sun cost plant, and no abilities as well. It does hit very hard, but its lack of abilities make it outclassed by other 5-sun cost plants like Power Flower or Whipvine. Green Shadow can play stat-boosting cards like Fertilize to make it stronger. Since this is a mushroom card, Nightcap can boost this with Buff-Shroom, apply pressure and play Punish-Shroom, or Conjure it via Cosmic Mushroom to supplement its strength.
Against
Smoosh-Shroom has a lot of strength, and can take out a large chunk of health at anything it attacks. However, you can take advantage of its strength at the same time and instantly destroy it with Rocket Science or Cut Down to Size. Locust Swarm can also instantly destroy this plant. If its health has not been boosted, Cakesplosion can also get rid of it. Any zombie with 4 or more strength, or with the
Deadly trait can instantly destroy it as well. However, remember that the zombie that faces Smoosh-Shroom is going to be either destroyed, or badly damaged unless you destroy it with a bonus attack or shield the zombie with Zombot Battlecruiser 5000, Zombie Coach, or Escape through Time.
Gallery
Old
Trivia
Its description is the second time that the song "If I Had a Hammer" is referenced in the series, the first being in Excavator Zombie's Almanac entry.
It is the only mushroom present in the Multiplayer menu.