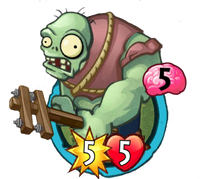 For other uses, see Gargantuar (disambiguation).
Smashing Gargantuar

Statistics
Strength
Health
Cost
5
5
5
Set
Basic
Rarity
Common
Class
Tribe
Gargantuar Zombie
Traits
None
Abilities
All Gargantuars have Frenzy.
When he phones home, it means something completely different.
Smashing Gargantuar is a basic common zombie card in Plants vs. Zombies Heroes, and a member of the 

Beastly class. He costs 5

to play, and has 5
/5

. He has no traits, and his ability gives all Gargantuar zombies on the field the

Frenzy trait, including him. This ability persists until all Smashing Gargantuars are removed from the field.
Origins
He is based on the zombie from Plants vs. Zombies with the same appearance.
Statistics
Class: Beastly
Tribe: Gargantuar Zombie
Traits: None
Ability: All Gargantuars have Frenzy.
Set - Rarity: Basic - Common
Card description
When he phones home, it means something completely different.
Update history
Update 1.2.11
Rarity change: Uncommon → Common
Strategies
With
Smashing Gargantuar himself is very powerful. He is strong enough to clear a lane of plants, then strike your opponent. And with other Gargantuars on the field, the devastation he causes gets even more massive.
Smashing Gargantuar synergizes with every

Beastly hero, but the hero who can use him the best is The Smash, as the

Hearty class has access to the most Gargantuar zombies (aside from the

Beastly class), as well as Gargologist.
Keep in mind, however, that all Gargantuars are vulnerable to Doom-Shroom unless one's strength has been lowered, so using this along with other Gargantuars against a

Guardian hero is quite risky, as they may have Doom-Shroom cards in their deck.
Against
Smashing Guargantuar is a very dangerous zombie, but there are a few ways to easily take care of it. You can play Squash or Lawnmower to get rid of him, or even better, Doom-Shroom, since it destroys all Gargantuars at once compared to the former two. If you are going to play Doom-Shroom, however, it is recommended to see if you have any plants with 4
or more on the field, as they also get destroyed from it. You can also play Shamrocket to get rid of him.
Gallery
Old
Trivia
His description is a reference to the movie E.T. the Extra-Terrestrial and its famous quote "E.T., phone home", which can also mean to call friends or family at your house.
Ad blocker interference detected!
Wikia is a free-to-use site that makes money from advertising. We have a modified experience for viewers using ad blockers

Wikia is not accessible if you've made further modifications. Remove the custom ad blocker rule(s) and the page will load as expected.