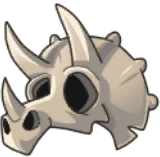 The skull is a headwear worn by the Jurassic Fossilhead that appears in Jurassic Marsh in Plants vs. Zombies 2. It works similarly to the ice block that the Blockhead Zombies use, except it absorbs 10 more damage shots to certain instant kills.
Overview
The skull absorbs 90 normal damage shots. Its appearance changes upon absorbing 27 and 54 normal damage shots.
See also
†: Metallic
Ad blocker interference detected!
Wikia is a free-to-use site that makes money from advertising. We have a modified experience for viewers using ad blockers

Wikia is not accessible if you've made further modifications. Remove the custom ad blocker rule(s) and the page will load as expected.