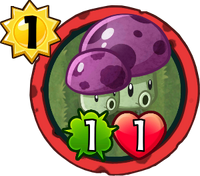 Shroom for Two

Statistics
Strength
Health
Cost
1
1
1
Set
Basic
Rarity
Common
Class
Tribe
Mushroom Plant
Abilities
When played: Make a 1/1 Puff-Shroom with Team-Up here.
Shrooms, bless their hearts, always wanting to cuddle up cuddly-like.
Shroom for Two is a basic common plant card in Plants vs. Zombies Heroes, and a member of the

Kabloom class. It costs 1
to play, and has 1
/1

. It has no traits, and its ability makes a Puff-Shroom with the Team-Up trait in front of it when it is played, but only if the lane is unoccupied.
Origins
Shroom for Two is in a sense two Puff-shrooms, referring to a common tactic to swarm Puff-shrooms in the main Plants vs. Zombies games due to the plant's fast recharge speed and nonexistent cost. Its name is a portmanteau of "shroom," referring to the fact that it is a mushroom and the phrase "room for two".
Statistics
Class: Kabloom
Tribe: Mushroom Plant
Traits: None
Ability: When played: Make a 1/1 Puff-Shroom with Team-Up here.
Set - Rarity: Basic - Common
Card description
Shrooms, bless their hearts, always wanting to cuddle up cuddly-like.
Strategies
With
This is actually different from a plant with 2 strength and 1 health. It can take 1 extra hit, but has its attack halved when it does. This feature allows it to dish out 2 damage in its lane for each turn, unless if either the Puff-Shroom or Shroom for Two gets destroyed. Also, since this is 2 plants at once, it synergizes twice as much with both sides, notably Muscle Sprout, Buff-Shroom, Punish-Shroom, Zombot Sharktronic Sub, or Vimpire. However, since it damages for 1 twice rather than 2 at once, it will be walled by zombies with

Armored like Conehead. 
As Nightcap, using Rescue Radish to Bounce Shroom for Two also helps, as it can be replayed to make more Puff-Shrooms, which also goes well with Punish-Shroom.
Against
When it is played, it is best to have a zombie with the

Frenzy or

Strikethrough trait on its lane in order to destroy both this plant and the Puff-Shroom made from it. Do not Bounce Shroom for Two, because if you do, your opponent can play it again to make another Puff-Shroom.
Gallery
Old
Trivia
It, Pair of Pears, and Poppin' Poppies are the only plants that can summon other plants with Team-Up.

However, Poppin' Poppies summons 3 plants that are completely different to itself rather than summoning 1 identical clone of itself.

If the player looks closely, the cap with circular spots of the bigger Puff-Shroom resembles the one used in Plants vs. Zombies: All Stars.
In older versions, when the bigger Puff-Shroom is moved by another zombie (e.g. Sumo Wrestler), it will play the animation that it is summoning the smaller Puff-Shroom, but nothing will be summoned. In newer versions, it simply moves without doing this animation.

This is because its summoning Puff-Shroom animation is also its "when played" animation.
See also
Ad blocker interference detected!
Wikia is a free-to-use site that makes money from advertising. We have a modified experience for viewers using ad blockers

Wikia is not accessible if you've made further modifications. Remove the custom ad blocker rule(s) and the page will load as expected.