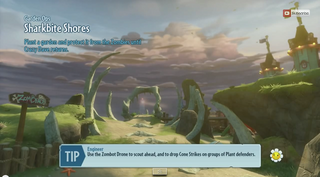 Sharkbite Shores is a map of Plants vs. Zombies: Garden Warfare. It is a small town located on a beach with shark bones. The areas are Zombie Beach, Plant Beach and The Town.
Game modes in which it appears
Trivia
There is a huge shark mouth in Zombie Beach.
There is also a huge skeleton of an unknown creature.
Interestingly, sharks do not actually have any bones for them to leave on this map; all their bones, except their jaws and teeth, are made of cartilage which has a tendency to decay with the rest of the soft tissues (it is like how you do not tend to see human skulls with their ears still apparent).
There is one small building on the plant's side called "What's Up, Dock?" This is a reference to Bugs Bunny and one of his most iconic lines.
Ad blocker interference detected!
Wikia is a free-to-use site that makes money from advertising. We have a modified experience for viewers using ad blockers

Wikia is not accessible if you've made further modifications. Remove the custom ad blocker rule(s) and the page will load as expected.