Ad blocker interference detected!
Wikia is a free-to-use site that makes money from advertising. We have a modified experience for viewers using ad blockers

Wikia is not accessible if you've made further modifications. Remove the custom ad blocker rule(s) and the page will load as expected.

"

That is the sound of inevitability.

"

—Penny
Save Our Seeds I is the second Save Our Seeds level of Wild West in the Chinese version of Plants vs. Zombies 2. To complete this level, the player must protect three Wall-nuts. The player will either lose the level if their house has been entered by the zombies or if one of the endangered Wall-nuts gets eaten. When this level is finished for the first time, the player gets a star.
Dialogue
(Crazy Dave appears)
Crazy Dave: What's that sound in the distance?
(Penny appears)
Penny: That is the sound of inevitability.
Crazy Dave: It sounds like a stampede of pianos!
(Crazy Dave and Penny leave)
Difficulty
Strategies
Suggested plants
Start out by planting as many sun plants as possible, using a Potato Mine to take out the first zombies. Remember to move the minecarts to where that doesn't have zombies.
Start planting the Snapdragons in the third column and Wall-nuts in the fourth column to protect the Snapdragons and plant Bloomerangs in the second column. Plant Spikeweeds at the right to stop the chickens and Pianist Zombie.
Continue moving the minecarts and planting more Spikeweeds to deal more damage to the zombies. Use Plant Food if needed.
Gallery
Walkthroughs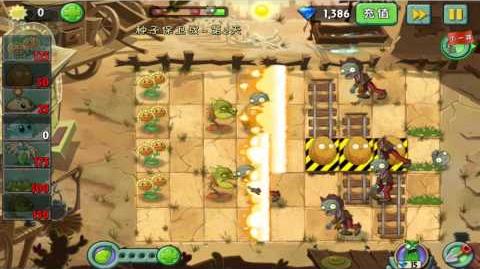 * A gate can be unlocked with a key after completing this level
^ Conjectural name