Sasquatch Imp is a conjectural name for this article.
If you know the official name or have a better name or translation for it, please contact a wiki
administrator
to change it.
This article is under construction and requires more content. You can help our wiki by
expanding it
.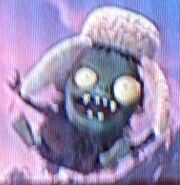 Sasquatch Imp is a Zombie that is summoned by the Sasquatch. It resembles a Yeti Imp with brown fur and a winter hat. Unlike its ice variant, it uses fire to attack. When it gets close to a plant, it will explode, burning all plants near it and pushing them back.
Gallery
See also

This article is a stub. Help us
expand it
, or the zombies will eat your brains!