For other uses, see SPUDOW!
SPUDOW!


Blow up a Zombie using a Potato Mine

Difficulty: Extremely easy
SPUDOW! is an achievement in Plants vs. Zombies 2. It requires the player to kill a zombie with a Potato Mine. It is worth 10 points on iOS devices and 1,000 XP on Google Play Games for Android devices.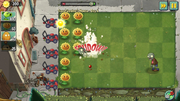 Strategies
You probably would have gotten this before you even knew it, simply plant a Potato Mine far away from a zombie, wait for it to pop up and a zombie to step on it to explode.
Trivia
The achievement's name is based on the fact that Potato Mine's explosion produces a "SPUDOW!" text above the tile it was planted on.
SPUDOW! is the only achievement that can be earned before Off the Green.
SPUDOW! and 20 Below Zero are the only achievements that return from Plants vs. Zombies.