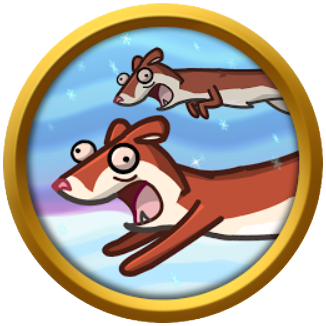 Run Weasley is an achievement in Plants vs. Zombies 2. It is achieved by completing a level without letting Ice Weasels jump over ice floes, also known as slider tiles. It is worth 10 points on Game Center and 1,000 XP on Google Play for Android devices.
Origins
Its name is a portmanteau of Ron Weasley, a character from the Harry Potter series and "run," referring to the Ice Weasels and how they move.
Strategies
A safe strategy is to plant defensive plants in front of the ice floes, especially Infi-nut's Plant Food ability as it can protect the whole column. Snapdragon or Cold Snapdragon goes great with this strategy as it covers three lanes at once. It is also useful to plant Spikeweeds and Spikerocks in front of said defensive plants.
Trivia
An oversight in development causes this achievement to be unlocked when the player completes a Piñata Party or Modern Day level with Ice Weasels, which makes this achievement to be achieved very easily due to the fact they do not commonly have slider tiles.
It is possible to earn the achievement after playing any level without Weasel Hoarders at all (for example, Frostbite Caves - Day 30).
Although the achievement's description says "floes", the ingame description says "ice floes".
Ad blocker interference detected!
Wikia is a free-to-use site that makes money from advertising. We have a modified experience for viewers using ad blockers

Wikia is not accessible if you've made further modifications. Remove the custom ad blocker rule(s) and the page will load as expected.