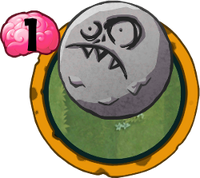 Rolling Stone is a basic common zombie trick card in Plants vs. Zombies Heroes, and a member of the

Hearty class. It costs 1

to play, and its ability instantly destroys a selected plant with 2

or less. Its closest plant counterpart is Whack-a-Zombie.
Origins
It is based on the environment modifier in Plants vs. Zombies 2 with a similar appearance.
Its name is a combination of the words "rolling", referring to its animation, and "stone", the object it is based on. It could also be a potential reference to any of the following:
Statistics
Class: Hearty
Tribe: Trick
Ability: Destroy a Plant with 2 or less.
Set - Rarity: Basic - Common
Card description
Gives new meaning to the phrase "rock n' roll".
Strategies
With
This trick can be good for the start of the game if the plant hero chooses to play a card. However, you can also save this card for another opportunity. Use this to destroy any threatening or set-up plant like Pea Pod, Sunflower, or Wall-Nut. Plants like Spineapple boosts all plants with no strength to 2, which makes Rolling Stone come in handy, being able to destroy any of the boosted plants. As Rustbolt, you can use his signature superpower, Shrink Ray, to weaken a plant that has 3 to 5 strength to 0 to 2, making them vulnerable to Rolling Stone. Similarly, you can use Landscaper, Pied Piper, and Nibble to decrease any plant's strength. However, if there are multiple 0 to 2-strength plants, Weed Spray is definitely a better option.
Against
Boost your plants' strength to at least 3 to keep them out of the range of Rolling Stone. Non-Mega-Grow and non-Kabloom heroes may have issues with this. You can also play as a Solar hero, as they have access to many 3-strength plants. You can also play Black-Eyed Pea and Sportacus to deter the opponent from playing this trick, although it is recommended that you boost their stats first.
Gallery
Plants vs. Zombies Wiki
has a
gallery
for Rolling Stone.
Trivia