Not to be confused with the Wild West Gargantuar.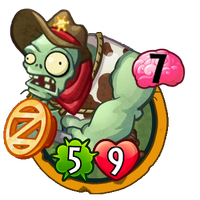 Rodeo Gargantuar is a premium rare zombie card in Plants vs. Zombies Heroes, and a member of the

Hearty class. He costs 7

to play, and has 5

/9

. He has the Gravestone trait, and his ability moves a selected plant onto a selected lane when he is revealed. His plant counterpart is Whipvine.
Origins
He is based on Wild West Gargantuar, and also partially based on Sheriff Gargantuar as well.
His description may refer to the expression "It's not my first rodeo."
Statistics
Class: Hearty
Tribes: Sports Gargantuar Zombie
Trait: Gravestone
Ability: When revealed: Move a Plant.
Set - Rarity: Premium - Rare
Card description
Why yes, this IS his first rodeo.
Update history
Update 1.2.11
▲

Health change: 8 → 9

▼

Brain cost change: 6 → 7
Strategies
With
Rodeo Gargantuar is basically a Sumo Wrestler with increased stats and the added Gargantuar tribe. Use this zombie as you would do with a Sumo Wrestler. With a very high health stat, this can survive a strong attack or two. Use his ability to move a potential threat to Rodeo Gargantuar's lane to destroy it, or to move a plant away from his lane so that he can possibly finish off the plant hero. You can also use Zombie Coach to shield him, as well as Team Mascot to boost his stats, as he is also a sports zombie.
As The Smash or Neptuna, you can use Possessed on him, and Rodeo Gargantuar will now have

Frenzy on top of even more health. If Possessed is not available, you can combine him with Smashing Gargantuar (as The Smash only). Since Rodeo Gargantuar comes out of a gravestone, Neptuna can boost him with Headstone Carver, although the chances of Headstone Carver surviving until turn 7 are very slim. She can also pair this with Mixed-Up Gravedigger, Cursed Gargolith or her superpower, In-Crypted, to reactivate Rodeo Gargantuar's ability again. As Rustbolt, you can pair him up with Wizard Gargantuar to move a plant out of the Wizard Gargantuar's lane to land 6 guaranteed damage on the plant hero, plus Rodeo Gargantuar himself will have

Bullseye as well.
Against
Any instant-kill card like Grave Buster, Doom-Shroom, Squash, Shamrocket and Lawnmower can destroy him easily. However, if those cards are not available, either lower his stats, or strategize and determine potential spots where your opponent will direct the plant. If there are three plants on the field, you can play a plant on Rodeo Gargantuar's lane and to force him to move it to an empty lane, which could easily turn the tables if the positioning is planned ahead and strategically used. However, be careful of plants that have the Team-Up trait, as they allow two plants to fit in one lane. Take him down quickly, because he could easily damage you for 5 (or even more if he is boosted).
If you notice that later in-game where a Hearty hero plays only one gravestone, there can be a chance that there is a Rodeo Gargantuar inside since he is really expensive. As mentioned above, you can use Grave Buster as this uses up 7 brains from the zombie hero, plus he is the only zombie that cost more brains than any other Gravestone zombies.
Gallery
Plants vs. Zombies Wiki
has a
gallery
for Rodeo Gargantuar.
Trivia
For some reason, he is smaller than the other Gargantuars in the game.
On Z-Mech's ally pack and the Mega Monster Pack, Rodeo Gargantuar can be seen holding a lasso. This lasso is used when he activates his ability.
See also