Ad blocker interference detected!
Wikia is a free-to-use site that makes money from advertising. We have a modified experience for viewers using ad blockers

Wikia is not accessible if you've made further modifications. Remove the custom ad blocker rule(s) and the page will load as expected.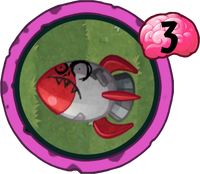 Rocket Science

Statistics
Strength
Health
Cost
-
-
3
Set
Premium
Rarity
Uncommon
Class
Tribe
Science Trick
Abilities
Destroy a Plant that has 4 or more.
Turns out, it IS rocket science.
Rocket Science is a premium uncommon zombie trick card in Plants vs. Zombies Heroes, and a member of the

Brainy class. It costs 3

to play, and its ability destroys a selected plant with 4
or more.
Statistics
Class: Brainy
Tribe: Science Trick
Abilities: Destroy a Plant that has 4 or more.
Set - Rarity: Premium - Uncommon
Card description
Turns out, it IS rocket science.
Update History
Update 1.2.11
Set - Rarity change: Basic - Common → Premium - Uncommon
Strategies
With
This trick can be a huge benefit, since it can take out plants which have or can gain a big boost of strength, such as Super-Phat Beets. Pea Pod, Doubled Mint, and Potted Powerhouse are also optional, as they both gain strength and health points every turn. Threats to zombie fighters, such as Winter Melon, Three-Headed Chomper, and Soul Patch, are also good selections to destroy.
Against
There is very little you can do. Prioritizing on one plant's strength is usually not a good idea, as this will kill it. The only surefire way to combat Rocket Science is to use bonus attacks after buffing a plant to ensure some damage, or use 3 strength cards. Using glass cannons such as Mushroom Ringleader or Magnifying Grass are not recommended to use against Brainy heroes, as they can just counter it using this. This is because neither this nor Rolling Stone/Weed Spray can touch these plants. Only Beastly cards that destroy plants would do so, in addition to the Deadly trait. Solar has a good amount of 3 strength plants, such as Metal Petal Sunflower, Bloomerang, Power Flower, etc.
Gallery
Old
Trivia
Its description is a reference to the phrase "it's not rocket science," meaning that something is not as hard as rocket science, the primary field of aircraft and spacecraft correctly called aerospace engineering.
A rocket similar to this one is found in Wall-Knight and Z-Mech's comic strip.