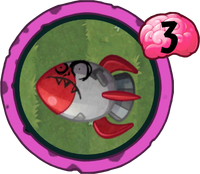 Rocket Science is a premium super-rare zombie trick card in Plants vs. Zombies Heroes, and a member of the

Brainy class. It costs 3

to play, and its ability instantly destroys a selected plant that has 4

or more. Its plant counterpart is Shamrocket.
Statistics
Class: Brainy
Tribe: Science Trick
Ability: Destroy a Plant that has 4 or more.
Set - Rarity: Premium - Super-Rare
Card description
Turns out, it IS rocket science.
Update history
Update 1.2.11
Set - Rarity change: Basic - Common → Premium - Uncommon
Update 1.10.22
New sound effects when Rocket Science is played.
Update 1.10.23
New animation when Rocket Science is played.
Update 1.14.13
Rarity change: Uncommon → Rare
Update 1.16.10
Rarity change: Rare → Super-Rare
Strategies
With
This trick can be a huge benefit, since it can take out plants with 4 or more strength, such as Super-Phat Beets and Potted Powerhouse. Pea Pod, Blooming Heart and Doubled Mint are also good options, as they gain strength every turn. Threats to zombie fighters, such as Winter Melon, Three-Headed Chomper, and Soul Patch, are also good options to destroy.
Against
Prioritizing on one plant's strength when playing against a Brainy hero is usually not a good idea, as the zombie hero may use Rocket Science to destroy it. The only surefire way to combat Rocket Science is to use bonus attacks after boosting a plant to ensure some damage, or use fighters with 3

or less. Using glass cannons, such as Mushroom Ringleader or Magnifying Grass, is not recommended to use against Brainy heroes, as they can just counter it using this trick. In that case, try to play plants with low strength. If you need to play high strength plants, try to play 2 or more of them.
Gallery
Old
Trivia
Its name and description are a play on the phrase and common idiom "it's not rocket science," meaning that something is not as hard as rocket science, the primary field of aircraft and spacecraft more properly called aerospace engineering and generally considered to be very complicated.
A rocket similar to this one is found in Wall-Knight and Z-Mech's comic strip.
The face on the rocket is the same as the face on Kite Flyer's kite, Rolling Stone, Balloon Zombie's balloon, and Toxic Waste Imp's barrel.
A recent update changed Rocket Science's animation slightly. Now, it moves much more slowly, as well as the audio being much slower.
This card had the most rarity changes out of most cards in the entire game, changing from Common to Uncommon, then to Rare and finally to Super-Rare.
See also