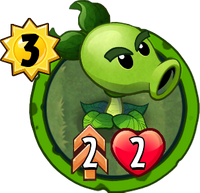 For other uses, see Repeater (disambiguation).
Repeater

Statistics
Strength
Health
Cost
2
2
3
Set
Basic
Rarity
Common
Class
Tribe
Pea Plant
Abilities
After combat here, this does a Bonus Attack.
"Yes! Yes! Let's do this! Let's do this!"
Repeater is a basic common plant card in Plants vs. Zombies Heroes, and a member of the

Mega-Grow class. It costs 3
to play, and has 2
/2

. It has no traits, and its ability makes it do a bonus attack after the initial combat if it does not get destroyed in the process.
Origins
It is based on the plant in Plants vs. Zombies with the same name.
Statistics
Class: Mega-Grow
Tribe: Pea Plant
Traits: None
Ability: After combat here, this does a Bonus Attack.
Set - Rarity: Basic - Common
Card description
"Yes! Yes! Let's do this! Let's do this!"
Strategies
With
Repeater is a fragile but potentially rewarding offensive plant. Its main strength lies in its bonus attack after battle, which can double the value of any offensive boost attached to it. However, this also means that any opposing zombie with

Armored will take less damage as the armor will apply to both attacks.
As demonstrated in the tutorial, a Repeater behind a Torchwood is a good combination of plants and can cause a lot of damage to a zombie or a zombie hero. Keep in mind that there are other peashooting plants that can replace the Repeater, like the Skyshooter.
Planting a Repeater while The Podfather is on the field will increase the strength and health points of the Repeater by 2. Party Thyme can also be used in conjunction with Repeater to set up a draw engine and get additional cards per turn.
Against
Try to quickly get rid of this. Its special ability could potentially destroy a weak zombie and damage the zombie hero in one battle phase. Leaving no zombie to combat it will result in the zombie hero losing 4 health, which is 1/5 of its health, which could be troubling. Jester can also pressure the plant hero, as he will survive both the attacks from Repeater if Repeater isn't boosted while being able to activate his ability twice.
Beware when this plant is teaming up with other plants such as Torchwood or The Podfather, as they will boost this plant, making it more threatening. In this case, going after these plants is a must, or the zombie hero might face losing early.
Many tricks such as Locust Swarm or B-flat can easily take out this plant before the fight wave begins, so using them is a good idea. In addition, because it attacks twice, it will charge the Super-Block Meter twice, so keep that in mind.
Gallery
Old
Trivia
Ad blocker interference detected!
Wikia is a free-to-use site that makes money from advertising. We have a modified experience for viewers using ad blockers

Wikia is not accessible if you've made further modifications. Remove the custom ad blocker rule(s) and the page will load as expected.