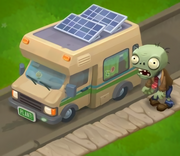 The RV is a vehicle in Plants vs. Zombies Adventures. It lets the player go on a Road Trip. The player can click on it and they can go on a Road Trip (they can also click on the map at the bottom of the screen). It may be owned by Crazy Dave.
Description
Travel in style in this solar-powered RV as you battle zombies far and wide.

-Plants vs. Zombies Adventures Facebook Page
Description of appearance
This RV is white and the license plate says "PLANT!" Inside the RV is a minifigure of a Sunflower, and in the windows, a cartoon of Peashooter, and a Beetboxer.
Trivia
The license plate is green and says "PLANT!" in white lettering.
On the windows are small stickers of a Sunflower, Peashooter, and Beet.
On the rear quarters are several bumper stickers saying assorted Plants vs. Zombies related phrases, such as "PvZ," "GROW," and a small sticker of a regular Zombie head crossed out.
It is unknown how the RV can drive in Zombitorium Manor, as there is no sun there.
Ad blocker interference detected!
Wikia is a free-to-use site that makes money from advertising. We have a modified experience for viewers using ad blockers

Wikia is not accessible if you've made further modifications. Remove the custom ad blocker rule(s) and the page will load as expected.