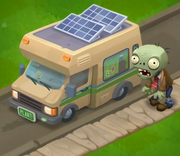 The RV was a vehicle in Plants vs. Zombies Adventures. It let the player go on a Road Trip. The player could have clicked on it, and they would have gone on a Road Trip (they could also have clicked on the map at the bottom of the screen). It may have been owned by Crazy Dave.
Description
Travel in style in this solar-powered RV as you battle zombies far and wide.

-Plants vs. Zombies Adventures Facebook Page
Appearance
This RV was white and the license plate said "PLANT!" on it. Inside the RV was a minifigure of a Sunflower, and in the windows, a cartoon of Peashooter, and a Beetboxer. On the top of the RV were solar panels.
Trivia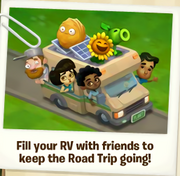 The license plate was green, and said "PLANT!" in white lettering.
On the windows were small stickers of a Sunflower, Peashooter, and Beet.
On the rear quarters were several bumper stickers saying assorted Plants vs. Zombies related phrases, such as "PvZ," "GROW," and a small sticker of a regular Zombie head crossed out.
It is unknown how the RV could have driven in Zombitorium Manor, as there was no sun there, and the RV was solar-powered.