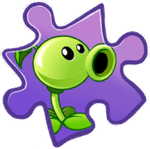 Puzzle Pieces are items available in the Chinese version of Plants vs. Zombies 2. Ten of a kind are needed to unlock the plants they are used to obtain. Plant costumes are also obtained by collecting Puzzle Pieces. They also appear in Plants vs. Zombies: All Stars. Every plant in both games so far has its own Puzzle Piece.
Methods of Obtaining Puzzle Pieces
Amount of Puzzle Pieces Needed
Unlocking a plant: 10 Puzzle Pieces
Leveling a plant to : 30 Puzzle Pieces along with 50,000 coins
Leveling a plant to : 50 Puzzle Pieces along with 100,000 coins
Leveling a plant to : 50 Puzzle Pieces along with 200,000 coins
Leveling a plant to : 80 Puzzle Pieces; 500,000 coins and 10 leveling potions with the same rarity as the plant.
Unlocking a plant's costume: Ranging from 6 to 30 Puzzle Pieces for each plant.
Gallery
Plants vs. Zombies Wiki
has a
gallery
for Puzzle Piece.
Trivia
Before the 1.5.0 version, Melon-pult and Kernel-pult only needed five of these to be unlocked. It has been fixed.
Match Flower Boxer and Firebloom Queen are the only plants that have their puzzle pieces obtained in another way (via getting crystals and spinning the roulette in a limited-time event).

In the 1.8.0 version, every normal Puzzle Piece was updated to reflect the rarity of the plants.

In the 1.9.0 version, the legendary Puzzle Pieces were changed again.
Ad blocker interference detected!
Wikia is a free-to-use site that makes money from advertising. We have a modified experience for viewers using ad blockers

Wikia is not accessible if you've made further modifications. Remove the custom ad blocker rule(s) and the page will load as expected.