This article is under construction and requires more content. You can help our wiki by
expanding it
.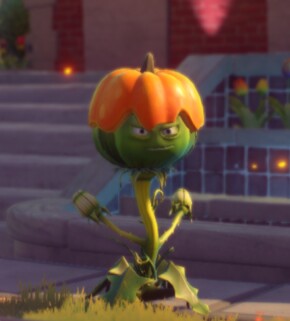 Pumpkin Weed is a new Spawnable Plant and Weed variant in Plants vs. Zombies: Garden Warfare 2. ​It has more health than a normal Weed, but it is considerably weaker and not as powerful as a Terracotta Weed. It is the plant counterpart of Conehead Zombie. Its melee attack is named Weed Whip and its ranged attack is called the Seed Spit. They have a festive counterpart that has a broken bauble in place of the pumpkin.
​Stickerbook description

​With their damage-absorbing hats, Pumpkin Weeds are proud, strong, and always up for a fight.
Trivia
When the player is vanquished by it, the vanquish feed calls it the 'Pumpkin-head Weed'.
This article is a stub. Help us
expand it
, or the zombies will eat your brains!
Ad blocker interference detected!
Wikia is a free-to-use site that makes money from advertising. We have a modified experience for viewers using ad blockers

Wikia is not accessible if you've made further modifications. Remove the custom ad blocker rule(s) and the page will load as expected.