This article is under construction and requires more content. You can help our wiki by
expanding it
.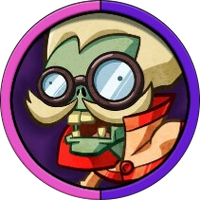 "

I haveta admit, Professor Brainstorm is smarter than your average Zombie. He uses Science Zombies to his advantage...and Tricks to your disadvantage.

"

—Crazy Dave
Professor Brainstorm

Classes
, 
Signature Superpower
Eureka
Other Superpowers
Electrobolt
Summoning
Telepathy
His countless years of research revealed that E=MCraaazy!
Professor Brainstorm is a zombie hero in Plants vs. Zombies Heroes. Professor Brainstorm leads the

Brainy and

Crazy zombie cards against the plants. His signature superpower is Eureka, which adds 3 random zombie cards from the entire game to his hand.
Origins
His name is based on a book called Professor Branestawm written by Norman Hunter. He has the word Professor in his name, clearly meaning he is a professor. The word "brainstorm" also means "a sudden impulse or idea," also referring to the fact he is a professor. The word "brains" is also included, due to the fact that he is a zombie. Also, storm is included, which may be a reference to one of his superpowers; Electrobolt, which is a lightning bolt, and lightning bolts appear in storms.
Statistics
Superpowers:

Signature: Eureka - Add three random cards in the entire game to your hand.
Other:

Boss Fights:
Hero description
His countless years of research revealed that E=MCraaazy!
Gallery
Old
Trivia
It is possible to get zombie tokens when using Eureka.
If Professor Brainstorm wins a battle, he will put on a hat similar to the cone hat on Unlife of the Party's head.
Professor Brainstorm has the longest animation when he hits more than 4 damage. It features him pulling part of his mustache off and then looking at it then reattaching it after a short while.
Brian Lindley, creator of Plants vs. Zombies: Garden Warfare, says that Professor Brainstorm's design is between the Scientist and Dr. Zomboss.
The strip when Professor Brainstorm is received is a reference to the Phineas and Ferb episode "Unfair Science Fair", as there is a portal losing to a baking soda volcano in the science fair.
Professor Brainstorm's description is a reference to the mass-energy equivalence.